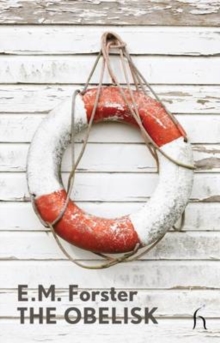 Description
Hilda and Ernest are a typical married couple, squabbling their way through a day-trip.
When they meet a pair of sailors, they are both disturbed and unsettled, but their initial wariness gives way in an unlikely, and jolly, joint trip to a local landmark, which ends in surprise for both husband and wife...Elsewhere, a weekend in the country has tragic results, and a missionary struggles to convert a native chieftain in the dark and powerful 'The Life to Come'.
Information
Format: Paperback
Pages: 112 pages
Publisher: Hesperus Press Ltd
Publication Date: 01/05/2008
ISBN: 9781843914365
Free Home Delivery
on all orders
Pick up orders
from local bookshops
Reviews
Showing 1 - 5 of 6 reviews.
Previous | Next
Review by riverwillow
16/06/2015
This is a beautifully presented collection of eight short stories which were sadly unpublished during Forster's lifetime. The stories deal with many of the concerns Forster explored in his novels - class, race, sexuality, oppression and suppression - most particularly his concerns about the stigma, and punishments, accorded to known homosexuals are to the fore in this collection. Some of the language and terms used may offend the unwary and any reader must remember that Forster is just reflecting the attitudes and values of his characters towards race, class and sex and that, as for any writer, the views expressed by his characters are not necessarily his own, but the stories still have resonance today.
Review by felicityann86
16/06/2015
I received the Hesperus edition of this book as part of the EarlyReviewers scheme, and I was very glad that I did. I have a sneaking love for the short story form anyway, and the eight little gems in 'The Obelisk' are some of the most marvelously crafted pieces I have read for a long time. Of course, as with any collection of stories, there are some that will strike a cord more than others - in my case I particularly enjoyed 'The Classical Annex' and 'The Torque', two of the oddest stories in the bunch - but there wasn't a story in this slim volume that I didn't enjoy.The only negative thing that I will say about the book, more as a warning than a strong criticism, is that there are some stories that do contain terminology that some people may consider racially offensive, and I was certainly brought up short a couple of times. However, I will say that Forster does not endorse racist viewpoints, and these terms, while offensive, are more often used to highlight the hypocrisy and prejudice of unlikeable characters than anything else.Another point that I will raise is that the subject matter, although never crude, could be seen as slightly risque, although Forster never goes into specifics. However, if you like your literature sex-free and vanilla (and there is nothing wrong with that), this is possibly not the book for you.For me, however, the book was a delight, having me laughing one moment (sometimes almost to the point of tears), and angry, upset, or unsettled the next. Highly recommended.
Review by firedrake1942
16/06/2015
A little awkward in places but up there with the best of Forster's writings. The elements of Homosexuality and its lack of contemporary inclusion, although a commonplace and tacitly accepted. in society are clear as elsewhere in the canon. Whether treated on this level or simply as finely crafted literature, of its time and equally enduring, there is much to enjoy. I would join with others in praising the presentation of the works in the Hesperus catalogue. A pleasure to receive own and read books of this quality.
Review by robertgriffen
16/06/2015
I am fortunate to have received a copy of this book through Early Reviewers from Hesperus Press, my second book from this publisher. I find their presentation very pleasant. The typeface used is clear and easy to read even for aging eyes.Forster is an exciting author and I particularly like the collection of short stories in this production. Although the language used and on occasions the subject matter may be disturbing for some, it must be remembered that these stories were written at a time when the attitude to sexuality and language where very different. Although there are racist and some homophobic elements in the stories, they are handled in a careful and understanding way so little if any significant offense is caused. There is considerable humour in most of the stories and I found that whilst I had little sympathy with some of the topics I had to laugh at the attitudes and language used. I like the short story format, it makes for easy reading and the presentation by Hesperus invites me to seek out further productions of theirs, in the future.
Review by Fluffyblue
16/06/2015
As ever, excellently presented book by Hesperus Press - lovely cover and nice thick, quality paper inside.The stories within the book were mixed, all themed around sexuality. The stories were humourous, although some more-so than others, and on the whole interesting. They were well written, but some were definitely better than others. I think my favourite was probably "The Obelisk", which was the first one in the book, so set a good precedent for the others tales to follow - however, they failed to match it and I was left feeling a bit cheated.
Also in the Modern Voices series | View all