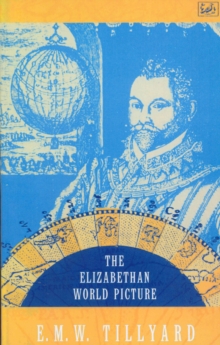 The Elizabethan World Picture
Paperback / softback
Description
The Elizabethans took from the Middle Ages the modified view of the universe which, Platonic and biblical in origin, radically differed from our own.
For them all creation was ranged in an unalterable order from the angels down to man - for whom the world existed - and thence to the beasts and plants.
In this short study Dr Tillyard not only elucidates such fairly familiar - though often mystifying - concepts as the four elements, the celestial harmony of 'nine enfolded Sphears', or macrocosm and microcosm; he also shows how this world picture was variously regarded as a chain of being, a network of correspondences, and a cosmic dance.
Such concepts were commonplace to the Elizabethans. By expounding them the author has rendered plain, and not merely picturesque, the literature and thinking of an age.
Free Home Delivery
on all orders
Pick up orders
from local bookshops
Also by E. M. W. Tillyard