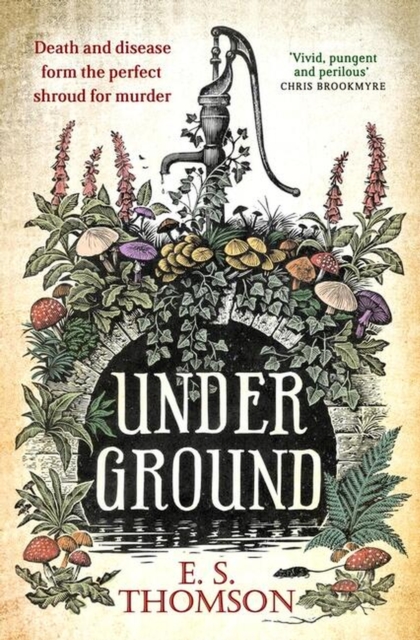 Description
'Immersive from the start and satisfying to the finish, a faultless tale from one of our best writers of historical crime fiction' JESS KIDDIn the darkness, her face glimmered like polished bone, white, but with a bluish tinge.
Her lips were dry and cracked. I saw them move; a black tongue pass over them as if she was trying to speak, but she made no sound. A plague is coming to London. Dreaded more than the Devil himself, cholera - the 'blue death' - spares no one.
As fear grows across the city, Jem Flockhart and Will Quartermain are called to the bedside of a dead man, murdered, and with his throat torn out, in the back room of a brothel.
When an innocent man is taken to Newgate, Jem and Will have until execution day to save him.
The search for the identity of the corpse, and the killer, takes them to the gates of Blackwater Hall, home to the secretive, and corrupt Mortmain family.
With the approach of autumn, no one is safe, for the fog brings with it an evil and poisonous sickness - the perfect shroud for murder.
When family secrets are prised out into the open, people begin dying.
But who, or what, is the cause? Searching for answers, Jem and Will are driven underground, to the passages and tunnels beneath the city's teeming streets.
Here, their adversary proves to be more elusive, and more deadly, than ever. PRAISE FOR UNDER GROUND'From the outset every image, every metaphor and simile reflects the central themes of corruption and disease, poverty and decadence.The plot is complex and substantial and the final denouement has a feeling of perfect inevitability' ALIS HAWKINS'I LOVED it.
Fantastic characters - I never guessed! So good ... Underground is brilliantly steeped in the lore of Victorian London, i couldn't take my eyes off it!' SARA SHERIDAN'Immersive' SCOTLAND ON SUNDAYPRAISE FOR E.S.THOMSON'Another gripping page-turner, add Nightshade to your reading list now.' Edinburgh Evening News'Vivid, pungent and perilous' CHRIS BROOKMYRE on Beloved Poison'Evocative...brilliant plotting' REBECCA GRIFFITHS on Beloved Poison'A dark gripping atmospheric thriller' Dundee Courier on Nightshade'Superb' Sunday Express'Gothic.
Gory. Glorious . . . E. S. Thompson's Jem Flockhart books are the best I've read in years.
Jem is just my kind of heroine: scarred, smart, complex, and unapologetically queer' Kirsty Logan, author of The Gloaming'Love evocative descriptions of Victorian London and brilliant plotting?
Then grab a copy of this!' Rebecca Griffiths, author of The Primrose Path'Complex, harrowing and highly enjoyable' Daily Express'A marvellous, vivid book' Janet Ellis'Jem Flockhart is a marvel . . . This vivid journey into the dark side of the human soul is a thoroughly engrossing tale' Mary Paulson Ellis, author of The Other Mrs Walker
Information
Format:Hardback
Pages:384 pages
Publisher:Little, Brown Book Group
Publication Date:05/10/2023
Category:
ISBN:9781472131539
Information
Format:Hardback
Pages:384 pages
Publisher:Little, Brown Book Group
Publication Date:05/10/2023
Category:
ISBN:9781472131539