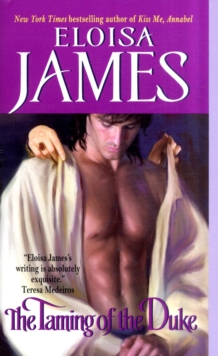 TAMING OF THE DUKE
Paperback
Information
Format: Paperback
Publisher:
Publication Date: 01/04/2006
ISBN: 9780060781583
Free Home Delivery
on all orders
Pick up orders
from local bookshops
Reviews
Showing 1 - 5 of 7 reviews.
Previous | Next
Review by essexgirl
16/06/2015
The first 2 books in this series had some resonance. I even went and reread Catallus. This has some good jokes but both the leads are a tad icky. And I hate this cover. The hero is supposed to be an overweight alcoholic. With a six-pack!
Review by Anniik
16/06/2015
"The Taming of the Duke" is the third installation in the Essex sisters series. It concerns Imogen, the third sister, who so far in the series has eloped, been widowed, and caused a great deal of trouble. This story begins when Rafe's illegitimate brother, Gabriel, shows up to ask Rafe for a favor. Apparently a brief love affair between Gabriel and an actress resulted in a child being born, and the ruination of the actress's career. Gabe wants Rafe to hold a play for him where she can have the lead as a way of setting things straight between them. Imogen conceives a fancy for Gabe, and propositions him. Backed into a corner, Gabe agrees to go, but then goes to Rafe behind her back and tells him that he'd better cover for him, because he's not going to do it - he doesn't feel that way about Imogen and he doesn't want to have an affair with her. So Rafe, who has hid feelings for Imogen for some time, engages in an elaborate masquerade with Imogen who believes that he's Gabe.This is a sweet book. Rafe's struggles with his alcoholism, Imogen's insecurities about her desirability (due to her first marriage), and Rafe's complete lack of confidence in himself combine to make an adorable love story. On the downside, The masquerade is a little bit unbelievable (they aren't twins, after all, just brothers). But the biggest issue for me in this book is the secondary love story which is, for the most part, in the way. I really don't care about Gabe or Gillian Pythian-Adams. I really don't care what happens to them. I want to know what happens with Rafe and Imogen, and whenever I'd reach one of the chapters with the long and drawn-out secondary love story, I read it as fast as possible to get back to Rafe and Imogen. The second read through, I skipped them completely. It seems in a lot of her books that Eloisa James finds it necessary to make sure that everyone has a happy ending - not just the main characters. This can become tedious - and does very much so in this book.
Review by theshadowknows
16/06/2015
I was really looking forward to The Taming of the Duke because Imogen and Rafe are some of my favorite characters of the series. They had such personality, with their flaws and their foibles that could be equally endearing and frustrating. Unfortunately, when they're brought together for their romance in this third installment of the Essex Sisters series, things didn't work out so well for me. Rafe discovers and embraces his long lost, illegitimate half-brother Gabe, who brings with him his own illegitimate daughter and a request to help out his baby's mama, an actress, by putting on a play in which she, Loretta Hawes, will star and thus be launched into her brilliant acting career. Sounds a bit convoluted/contrived? Well, it is. Even worse is the game of disguise that Rafe plays with Imogen, who thinks she's embarking on an affair with Gabe (when it's really Rafe in a mustache.) Rafe's transformation from pickled duke (he's an alcoholic, or the 19th century equivalent of one) to virile hero seemed too swift and easy for me. (I know this is supposed to be light and fun, but that doesn't mean it can't be believable too.) I liked the idea of a hero who is less than physically spectacular. Many references are made to Rafe's dissolute, debauched ways in the previous books and, wonder of wonders, his body actually reflects his lifestyle! There are plenty of heroines out there who are plump but I had yet to come across a hero with a bit of a gut. But for reasons that are a little foggy to me, Rafe, preparatory to becoming the star in his own romance, suddenly decides to stop drinking. His gut disappears, and he rediscovers his sexual prowess by becoming Imogen's "demon lover." It seemed a bit of a cop out to me. I'm not saying that I wish he'd stayed drunk - far from it. I just wish that, along with giving up the drink, he could have stayed the lovable, slovenly Rafe I'd gotten to know in the other books, rather than become the cardboard cut out who plays the love of his life for a fool.Imogen herself wasn't so bad. It's a delight to find her breaking the mold in successfully pursuing an affair without any intention of marriage. She's no longer crazy in love or crazy with grief in this book, but neither does she have the same fire and humor of the previous books. Though some of her antics here really are great as she lets loose and works towards getting over Draven and just being herself.The romance comprises Rafe's plan of trapping Imogen into marriage by making her so delirious with lust that she won't be able to say no to him once she finds out he's Rafe and not Gabe. Did all the character and integrity drain out of Rafe along with the alcohol? His terror that he's not good enough for her didn't help me view his deception any more kindly. Imogen and Rafe just didn't seem to click, mostly because this disguise plot got in the way. Their relationship was very unbalanced and sketchily drawn, especially when ***spoiler alert*** Imogen reveals she knew it was Rafe all along, and doesn't demur in the slightest. I can't believe she let him get away with it that easily. ***end spoiler*** Just as the silly charade is dispensed with, the story is over and the happily ever after is upon us. I felt cheated, to say the least. There's the usual host of secondary characters and a side romance with Gabe and Gillian Pythian-Adams, which never caught my interest. So overall, I was disappointed in The Taming of the Duke. After all the build up for Imogen, a wonderful creation by Eloisa James, this story fell dismally flat and definitely wasn't as good as the first two books in this series.P.S. not a fan of the creepy cover at all!!!
Review by kayceel
16/06/2015
I took me a bit to get into this one - usually James has me at the first sentence - but The Taming of the Duke is worth it. I think Rafe, the Duke of Holbrook and guardian to the Essex sisters (two of whom are married and away for this book), is one of my favorite heroes. He's charming, funny and an alcoholic. He quits during the course of this story, and not just because Imogen, the heroine, wants him to. He's discovered that not only does he have an illegitamate brother the same age as he, but that brother has a secret illegitimate infant daughter.Like all of James' stories, this one is full of humor, smart and funny characters, lots of charm and tons of spark.Definitely recommended!
Review by mlorio
16/06/2015
The author did a good job of making an alcoholic into a romantic hero. The subplot with the Duke's half brother and the jilted Gillian from the previous title in the series.