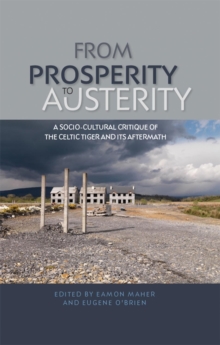 From Prosperity to Austerity : A Socio-Cultural Critique of the Celtic Tiger and its Aftermath
Paperback / softback
Description
This collection examines the Irish economic phenomenon of the Celtic Tiger and the financial disaster that came in its wake, from a socio-cultural perspective.
It focuses on how these financial developments have been reflected in writing, film and culture in order to offer a more rounded analysis of the effects of this momentous period on people's lives. Employing a wide range of cultural lenses, the book critiques the cultural, political and aesthetic implications of the progression from prosperity to austerity and the impact this has had on the psyche of Irish culture.
An eclectic mix of theoretical approaches enables treatment of religion, literature, popular culture, photography, gastronomy, music, gender, immigration and film, as contributors assess how the Celtic Tiger was represented, or misrepresented, in these particular spheres of experience. In addition, the chapters also probe the effects on all of the aforementioned cultural forms, and interrogate how the lives of people have been transformed in ways that go beyond the already well-documented areas of economics and finance. The book will be a valuable resource for academics and students interested in contemporary Ireland and recent Irish history, as well as the general reader anxious to understand the effects of this particular period on the real lives of people as expressed through culture.
It features contributions by internationally acknowledged experts in their fields and offers a comprehensive overview of the cultural consequences of the Celtic Tiger and its aftermath. -- .
Information
Format: Paperback / softback
Pages: 256 pages, Illustrations, black & white
Publisher: Manchester University Press
Publication Date: 31/07/2014
Category: Political economy
ISBN: 9780719091681