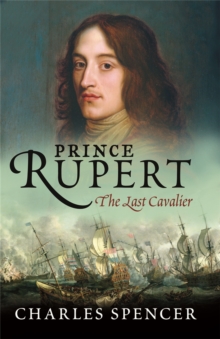 Prince Rupert : The Last Cavalier
Paperback
Description
King Charles's Pirate Prince To his fellow Royalists, fighting for King Charles I, Prince Rupert of the Rhine was the archetypal 'cavalier'.
Young, handsome, expert horseman, crack pistol shot, his swaggering style irritated the stuffier of the king's courtiers almost as much as the 'Roundheads' they were fighting.
To the parliamentarians, above all Oliver Cromwell, he was the ultimate 'malignant', one of those Royalists who fought on even after Charles was executed in 1649. Rupert commanded the Royalist forces in exile, at one point reduced to little more than pirates before the triumphant restoration of the monarchy in 1660.
In Charles Spencer's thoroughly researched account, Prince Rupert is revealed as more than just a great general and dashing cavalier.
He was a scientist and classical scholar too: a true renaissance prince.
From his dramatic childhood escape through the snows of Bohemia to respected older statesman, this is the first comprehensive biography of the greatest cavalier of them all.
Information
Format: Paperback
Pages: 448 pages, 23
Publisher: Orion Publishing Co
Publication Date: 29/05/2008
ISBN: 9780753824016
Free Home Delivery
on all orders
Pick up orders
from local bookshops
Reviews
Showing 1 - 1 of 1 reviews.
Review by bezoar44
16/06/2015
It's hard to imagine this biography of Prince Rupert being much use to anyone who isn't already interested in the English Civil War or Restoration Eras. For anyone who is, however, it offers a very sympathetic portrait of a figure who usually shows up on the periphery of standard accounts. Spencer tells the story well, tracing Rupert's service in European Wars; on behalf of the ill-fated Charles I; as a pirate during the Interregnum; and as a cousin of King Charles II after 1660. While Spencer acknowledges Rupert's tactical mistakes, he portrays him as a smart, brave, and loyal soldier with tremendous personal integrity, as measured against the aristocratic values with which he was raised.One theme of Rupert's life, from the Civil War on, is the replacement of the traditional (medieval?) conception of personal nobility with modern traditions of rigorous training and professionalization. This shows up in the defeat of the Cavaliers by Cromwell's New Model Army; and again, late in Rupert's life, by the eventual transfer of control of the Royal Navy from aristocrats to career civil servants. Fortunately, Rupert seems to have enjoyed a loving home life in his final decade, after years of defeat, loss, and disappointment.
Also by Earl Charles Spencer