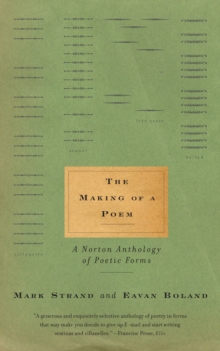 The Making of a Poem : A Norton Anthology of Poetic Forms
Paperback
Description
Two of our foremost poets provide here a lucid, straightforward primer that "looks squarely at some of the headaches and mysteries of poetic form": a book for readers who have always felt that an understanding of form (sonnet, ballad, villanelle, sestina, among others) would enhance their appreciation of poetry.
Tracing "the exuberant history of forms," they devote one chapter to each form, offering explanation, close reading, and a rich selection of examplars that amply demonstrate the power and possibility of that form.
Information
Format: Paperback
Pages: 400 pages
Publisher: WW Norton & Co
Publication Date: 17/04/2001
Category: Poetry
ISBN: 9780393321784
Free Home Delivery
on all orders
Pick up orders
from local bookshops
Reviews
Showing 1 - 4 of 4 reviews.
Review by lyzadanger
16/06/2015
Take this one slowly. It's a whole world of information. I read one chapter at a time, diagramming out the poetic forms, trying to decode meter. Learning a ferocious amount. This is a great springboard from which I hope to bounce into learning more about the specific poets and ages of poetry.Each section describes the rules and history of a type of poem (e.g. pantoum, sonnet) and then gives many examples. While the initial explanation is very helpful, I find myself wishing there were more analysis of each poem--but I suppose this book cannot be all things at once.Also useful is the appendix of brief biographies about each represented poet. The context of the book tends to lean towards drawing a background for modern works, but classic poems are also strongly represented.I still feel profoundly undereducated in verse, but I have taken one large step towards enlightenment with this book.
Very useful book by two trusted and lauded poets. Gives a nice background to the major poetic forms, Villanelle, Sestina, Pantoum, etc., and ideas why each could be deployed. A good anthology of poems in its own right, it is as an exemplar rather than a direct 'how to' manual, that it is most useful.
Review by DonnaMarieMerritt
16/06/2015
Good resource offering a variety of poems of poetic forms. Explanations are a bit awkward at times and the book ends abruptly, but it's still worth adding to your collection.
Review by aswinreadr
16/06/2015
This works perfectly fine as an anthology but the criticism offered by the authors is somewhat of a hit and miss. But, if you have long deferred looking at structured poetry because your first encounter with it made it sound all very rules-y, this anthology will help you change that viewpoint by making it clear that the poetic form is as much a mood setting factor as the actual words. The best argument for this is in the many wonderful poems collected under each chapter. Personal favs so far include the villanelle from Elizabeth Bishop, Miller Williams' sestina and Gwendolyn Brooks' ballad.