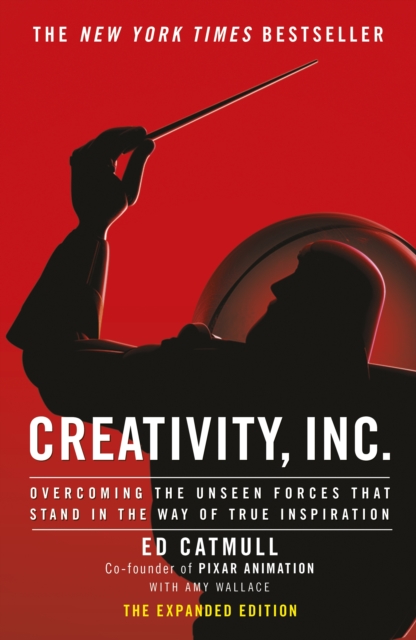 Creativity, Inc. : an inspiring look at how creativity can - and should - be harnessed for business success by the founder of Pixar
Hardback
Description
THE EXPANDED EDITION'Just might be the best business book ever written' Forbes Magazine'This book should be required reading for any manager' Charles Duhigg'Full of detail about an interesting, intricate business' The Wall Street Journal______________________________________________The co-founder and longtime president of Pixar updates and expands upon his 2014 New York Times bestseller on creative leadership, reflecting on the management principles used to build Pixar's singularly successful culture, including all he learned in the past nine years that allowed Pixar to retain its creative culture while continuing to evolve. For nearly twenty years, Pixar has dominated the world of animation, producing such beloved films as the Toy Story quartet, Finding Nemo, The Incredibles, Up, and WALL-E, which have gone on to set box-office records and garner thirty Academy Awards.
The joyous storytelling, the inventive plots, the emotional authenticity: In some ways, Pixar movies are an object lesson in what creativity really is. As a young man, Ed Catmull had a dream: to make the first computer-animated movie.
He nurtured that dream as a Ph. D. student, and then forged a partnership with George Lucas that led, indirectly, to his founding Pixar with Steve Jobs and John Lasseter.
A mere nine years later, Toy Story was released, changing animation forever.
The essential ingredient in that movie's success-and in the movies that followed-was the unique environment that Catmull and his colleagues built at Pixar. Creativity, Inc. has been expanded to illuminate the continuing development of the unique culture at Pixar.
Featuring a new introduction, two entirely new chapters, four new chapter postscripts, and new reflections at the end, this updated edition details how Catmull built a culture that doesn't just pay lip service to the importance of things like honesty, communication, and originality, but commits to them.
Pursuing excellence isn't a one-off assignment, but an ongoing, day-in, day-out, full-time job. And Creativity, Inc. explores how it is done. _________________________________________Readers love Creativity, Inc. 'Incredibly inspirational''Great book. Wish I could give it more than 5 stars''Honestly, one of the best books I've read in a long time''Read it and read it again, then read it again and then again''Great book!!
Fantastic read'
Information
Format:Hardback
Pages:496 pages
Publisher:Transworld Publishers Ltd
Publication Date:08/04/2014
Category:
ISBN:9780593070093
Other Formats
eAudiobook MP3 from £10.66
EPUB from £7.99
Information
Format:Hardback
Pages:496 pages
Publisher:Transworld Publishers Ltd
Publication Date:08/04/2014
Category:
ISBN:9780593070093