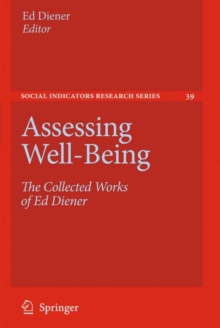 Assessing Well-Being : The Collected Works of Ed Diener
Paperback / softback
Description
The Sandvik, Diener, and Seidlitz (1993) paper is another that has received widespread attention because it documented the fact that self-report well-being scales correlate with a number of other methods of measuring the same concepts, such as with reports by knowledgeable "informants" (family and friends), expe- ence sampling measurement, and the memory for good versus bad life events.
A single factor was found to underlie measures using different methods, and a n- ber of different well-being self-report measures were found to correlate with the non-self-report measures.
Thus, although the self-report measures of well-being are imperfect, and can be in uenced by response artifacts, they have substantial validity as shown by their correlations with measurements based on alternative methods.
Whereas the Pavot and Diener article reviewed the Satisfaction with Life Scale, the Lucas, Diener, and Larsen (2003) paper reviews various approaches to assessing positive emotions.
As we wrote in the chapter in this volume in which we present new measures, we do not consider any of the existing measures of positive affect to be entirely acceptable for measuring subjective well-being in the affect area, and that is why we have created and validated a new measure.
Information
Format: Paperback / softback
Pages: 274 pages, X, 274 p.
Publisher: Springer
Publication Date: 09/06/2009
ISBN: 9789048123537
Also in the Social Indicators Research Series series | View all