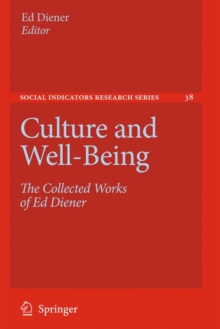 Culture and Well-Being : The Collected Works of Ed Diener
Paperback / softback
Description
material boundaries capture cultural effects? The articles contained in this volume offer initial answers to most of these questions.
The culture and well-being questions are of fundamental importance to understanding in the entire eld and to scienti c knowledge in the behavioral s- ences as a whole.
Unless we understand what is universal and what is speci c, we cannot hope to understand the processes governing well-being.
Unfortunately, our scienti c knowledge in most behavioral science elds, including the study of we- being, has been built on a narrow database drawn from westernized, industrialized nations.
This means that we have only a little knowledge of whether our ndings are generalizable to all peoples of the globe and to universal human psychol- ical processes.
Fortunately, during the last decade my students and I, as well as others working in this area, have rapidly expanded our knowledge of well-being vis-a-vis ` culture.
The rst attempt to summarize the ndings in this area came in 1999 with Culture and Subjective Well-Being, a book edited by Eunkook Suh and Diener.
The current volume represents a renewed effort to give a broad overview of major ndings in this area and to point to the important directions for future research.
Composition of This Volume I am very pleased with the articles presented in this volume because I believe that they represent true advances in our fundamental understanding of subjective we- being.
Information
Format: Paperback / softback
Pages: 290 pages, X, 290 p.
Publisher: Springer
Publication Date: 01/05/2009
ISBN: 9789048123513
Also in the Social Indicators Research Series series | View all