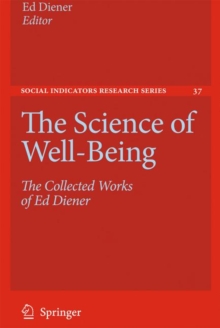 The Science of Well-Being : The Collected Works of Ed Diener
Paperback / softback
Description
Major Theoretical Questions Theories about subjective well-being have grown over the past several decades, but have been re ned only slowly as adequate data have been compiled to test them.
We can characterize the theories describing happiness along several dimensions.
The rst dimension is whether the theory places the locus of happiness in external conditions such as income and status, as many sociological theories do, or within the attitudes and temperament of the individual, as many psychological theories do.
Some have maintained that people adapt to all circumstances over time, so that only individual personality matters for producing happiness, whereas others believe that economicandothersocietalfactorsarethedominantforcesinproducingwell-being.
Throughout my writings there is a mix of both the internal and external factors that in uence well-being.
A second dimension that characterizes scholarship on well-being is the issue of whether the factors affecting well-being are relative or absolute.
That is, are there standards used by people at all times and places in judging their lives and in reacting to events? Or are standards dependent on what other people possess, on expec- tions,andonadaptationlevelsbasedonpastcircumstances?Again,thereisevidence supporting the role of both universal and relative standards.
People around the globe are probably in uenced by common factors such as friendship versus loneliness, but even these universal in uences on happiness are probably subject to some degree of comparison depending on what the person is used to and what others have.
However, some factors might be much more comparative than other in uences, as Hsee, Yang, Li, and Shen (in press) have described.
Information
Format: Paperback / softback
Pages: 274 pages, X, 274 p.
Publisher: Springer
Publication Date: 09/06/2009
ISBN: 9789048123490
Free Home Delivery
on all orders
Pick up orders
from local bookshops
Also in the Social Indicators Research Series series | View all