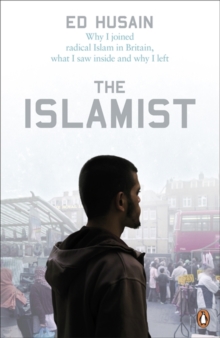 The Islamist : Why I Joined Radical Islam in Britain, What I Saw Inside and Why I Left
Paperback
Description
Ed Husain's The Islamist is the shocking inside story of British Islamic fundamentalism, told by a former radical. 'When I was sixteen I became an Islamic fundamentalist.
Five years later, after much emotional turmoil, I rejected fundamentalist teachings and returned to normal life and my family.
As I recovered my faith and mind, I tried to put my experiences behind me, but as the events of 7/7 unfolded it became clear to me that Islamist groups pose a threat to this country that we - Muslims and non-Muslims alike - do not yet understand.' 'Why are young British Muslims becoming extremists?
What are the risks of another home-grown terrorist attack on British soil?
By describing my experiences inside these groups and the reasons I joined them, I hope to explain the appeal of extremist thought, how fanatics penetrate Muslim communities and the truth behind their agenda of subverting the West and moderate Islam.
Writing candidly about life after extremism, I illustrate the depth of the problem that now grips Muslim hearts and minds and lay bare what politicians and Muslim 'community leaders' do not want you to know.' 'A complete eye-opener' The Times 'Captivating, and terrifyingly honest' Observer 'Persuasive and stimulating' Martin Amis 'Read this articulate and impassioned book' Simon Jenkins, Sunday Times Ed Husain was an Islamist radical for five years in his late teens and early twenties.
Having rejected extremism he travelled widely in the Middle East and worked for the British Council in Syria and Saudi Arabia.
Husain received wide and various acclaim for The Islamist, which was shortlisted for the Orwell Prize for political writing and the PEN/Ackerley Prize for literary autobiography, amongst others.
Information
Format: Paperback
Pages: 304 pages
Publisher: Penguin Books Ltd
Publication Date: 03/05/2007
Category: True stories
ISBN: 9780141030432
Free Home Delivery
on all orders
Pick up orders
from local bookshops
Reviews
Showing 1 - 4 of 4 reviews.
Review by MisterJJones
16/06/2015
A book to be read for its content - a window into the world of Islamist organizations in the UK - rather than for its style - dry and rather impersonal. Husain's experiences are thought provoking and worrying, but the early part of his account detailing his radical years is sadly lacking in depth or feeling.
Review by stephenmakin
16/06/2015
This is the story of how a young man becomes a Fundamentalist, and how he turns his back on Fundamentalism and goes back to normal life. It's written very much in the style of an slightly stilted autobiography, but it's a good read, and I read it an a fairly adsorbing sitting.
Review by saltybooks
16/06/2015
I came to this book having little understanding about the Islam faith, and its role around the world, so reading it taught me quite a lot. Having said that my main interest in this book was seeing how the author went from being a fairly typical British Muslim child to an Islamic fundamentalist. Despite being brought up by a family who was against any such radical views the step by step process was a interesting read. Equally interesting was how subsequently the author gradually moved away from the radical elements of Islam to a much more peaceful and moderate view of his faith. The last quarter of the book turned a little more into both a history lesson and talking about the role of Islam in Britain and the rest of the world, something I found of less interest and altogether quite confusing, and as a result it made the last few chapters a little harder going. The use of Muslim/Islam/Arab terminology throughout the book, and the plethora of organisations within the Islam faith that were mentioned were difficult to follow. This wasn't so bad when the focus of the story was on the author himself, but in other parts of the book it made things a more than a little confusing for me. A glossary of the terms used, and possibly even a little synopsis of each of the organisations mentioned, would have been a hugely welcome addition to this book. I did like this book, hence the three stars, some of the turning points and people he met along his journey made an engaging read. As a whole I'm glad I picked this up to read, for one it was largely enjoyable, but also for the much needed education it has provided me on this subject area.
Review by Marlene-NL
16/06/2015
on Sunday, July 27, 2008 I wrote about this book:<br/><br/>Finished this book yesterday.<br/>it was definitely not an easy read, by far. Lots of Islam names and Islam groups. Wow they fight amongst themselves so much, so much rivalry. I liked the beginning, the middle I did start to get a bit bored but I did not want to give up so I tried and kept reading. Glad I did cause it teached me a lot.<br/><br/>How scary it is to know so many muslims are living next to us and think we are so far below them and that there are quite a lot of them who hate us even.<br/>Even more scary is that because of our freedom we let them get sway with a lot. Look at the situation in England. I know it will be the same here.<br/>I did underline passages, not with pen, which were remarkable or interest me. Now I want to read another book to give me even more insight. Thinking of Eurabia or While Europe slept. <br/>Thanks for sharing. 7.5 <br/><br/>