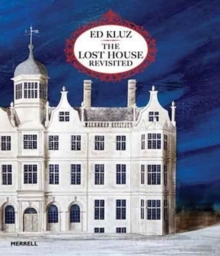 Ed Kluz: The Lost House Revisited
Hardback
Description
The artist Ed Kluz has a fascination for the sites of lost buildings.
Kluz grew up in the wilds of the Yorkshire Dales, surrounded by the landscape of the past, and the sense of remoteness he felt there sparked an interest in forgotten places, such as country houses and follies.
Once-celebrated houses that were abandoned to ruin, burned or deliberately destroyed have now become the haunting subject matter of his distinctive collages.Kluz is meticulous in his research.
He spends hours at a site, sketching, taking photographs and generally 'getting to the heart of a place'.
Then, in a process in which he likens himself to a collector of fragments or relics, he gathers all the material he can find before adding a little invention of his own to revive or reimagine the house.
His highly original works are a combination of watercolour and layer upon layer of delicate painted collage elements, the tension between colour and texture achieving a sense of depth and light.
Kluz's lost houses conjure up the vanished buildings in all their pomp, perched on stark, treeless plains under threatening skies, as if briefly illuminated in the glare of lightening or the beam of an arc light. In his introduction to the book, the art and architectural historian Tim Knox describes Kluz's views of houses, with their concentration on the filigree architecture and silhouette of building itself, as heirs to the highly finished perspective drawings produced by professional architectural artists in the early nineteenth century, but he also draws parallels with the bold graphic tradition of Eric Ravilious and Edward Bawden.
Kluz himself, too, explains that his aim is to evolve the long tradition of country-house painting - a tradition that began in Britain in the sixteenth century and continued into the 1800s, only declining with the advent of photography.
Over recent decades, public interest in lost country houses has been growing; there are an increasing number of books and websites devoted to the theme.
In his search for information about his often elusive subjects, Kluz has made full use of these sources, presenting in this book a wide range of materials - engravings, paintings, plans, maps, written accounts and his own preparatory sketches - before the final spread in each chapter unveils the finished collage. Ten English houses are featured in depth, among them the Tudor palace of Holdenby House in Northamptonshire, the magnificent mansion of Hamstead Marshall in Berkshire, Vanbrugh's Claremont in Surrey, and the grandiosely Gothic Fonthill Abbey in Wiltshire.
Each house is introduced by the architectural historian Olivia Horsfall Turner, who details its history and fate.
As Knox concludes, one yearns to have all the houses back, 'But in a sense we have, in Kluz's scenographic visions.'
Information
Format: Hardback
Pages: 192 pages, 250 colour illustrations
Publisher: Merrell Publishers Ltd
Publication Date: 11/09/2017
Category: Art & design styles: from c 1960
ISBN: 9781858946627
Free Home Delivery
on all orders
Pick up orders
from local bookshops