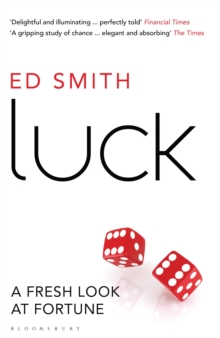 Luck : A Fresh Look At Fortune
Paperback
Description
For aspiring cricketer Ed Smith, luck was for other people.
Ed believed that the successful cricketer made his own luck by an application of will power, elimination of error, and the relentless pursuit of excellence.
But when a freak accident at the crease at Lords prematurely ended Ed Smith's international cricketing career, it changed everything - and prompted him to look anew at his own life through the prism of luck.
Tracing the history of the concepts of luck and fortune, destiny and fate, from the ancient Greeks to the present day - in religion, in banking, in politics - Ed Smith argues that the question of luck versus skill is as pertinent today as it ever has been.
He challenges us to think again about privilege and opportunity, to re-examine the question of innate ability and of gifts and talents accidentally conferred at birth.
Weaving in his personal stories - notably the chance meeting of a beautiful stranger who would become his wife on a train he seemed fated to miss - he puts to us the idea that in life, luck cannot be underestimated: without any means of explaining our differing lots in life, the world without luck is one in which you deserve every ill that befalls you, where envy dominates and averageness is the stifling ideal.
Embracing luck leads us to a fresh reappraisal of the nature of success, opportunity and fairness.
Information
Format: Paperback
Pages: 256 pages
Publisher: Bloomsbury Publishing PLC
Publication Date: 11/04/2013
Category: Memoirs
ISBN: 9781408830604
Free Home Delivery
on all orders
Pick up orders
from local bookshops