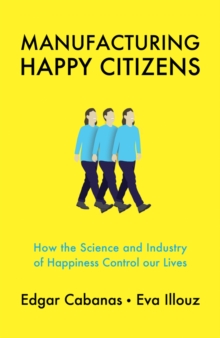 Manufacturing Happy Citizens : How the Science and Industry of Happiness Control our Lives
Paperback / softback
Description
The imperative of happiness dictates the conduct and direction of our lives.
There is no escape from the tyranny of positivity. The injunction to pursue personal happiness has turned into a multibillionaire industry, a managerial demand, a political goal, an emotional asset, and a dubious science, weaving itself in the very fabric of power, economics, and ethics in our time. But is happiness the supreme good that all of us should pursue?
So says a new breed of so-called happiness experts, with positive psychologists, happiness economists, and self-development gurus at the forefront.
With the support of influential institutions and multinational corporations, these self-proclaimed experts now tell us what governmental policies to apply, what educational interventions to make, what organizational strategies to deploy, which moral principles and therapeutic guidelines to follow and what changes we must undertake in order to lead more successful, meaningful and healthier lives. With a healthy skepticism, this book documents in a novel and critical way the powerful social impact of the science and industry of happiness, mapping out the coercive strategies, bogus rationales, truncated promises, and emotional hierarchies that, together with a new notion of citizenship, have emerged under the tyrannical demands of happiness.
The authors argue that the neoliberal alliance between psychologists, economists and self-development gurus has given rise to a new and oppressive form of government and control in which happiness has been woven into the fabric of power.
Information
Format: Paperback / softback
Pages: 260 pages
Publisher: Polity Press
Publication Date: 28/06/2019
Category: Psychology
ISBN: 9781509537891
Free Home Delivery
on all orders
Pick up orders
from local bookshops