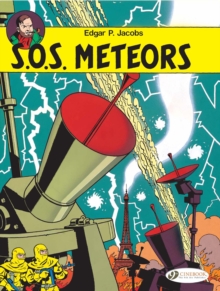 The Adventures of Blake and Mortimer : S.O.S. Meteors v. 6
Paperback
Description
Extreme weather threatens the whole of continental Europe, turning the lives of its citizens inside out.
The French government calls Professor Mortimer to help solve this enigma.
Mortimer travels near Paris to visit his friend Professor Labrousse, the chief French meteorologist.
But when the taxi driver Labrousse sent to meet Mortimer at the station disappears, our friend becomes the prime suspect.
Mortimer gets in touch with his old friend Blake, also in France, to help him out of this tricky situation.
However, Blake disappears as well, so Mortimer and Labrousse have two missing-person cases to investigate.
They soon discover that the two disappearances are not only linked to each other, but also to the climatic catastrophes.
Information
Format: Paperback
Pages: 72 pages, 814 illustrations
Publisher: Cinebook Ltd
Publication Date: 01/09/2009
Category: Comics and Graphic Novels
ISBN: 9781905460977
Free Home Delivery
on all orders
Pick up orders
from local bookshops
Reviews
Showing 1 - 2 of 2 reviews.
Review by adpaton
16/06/2015
SOS Meteors is beautifully drawn but oh dear me it can be dreary! Sympathetic nature as it were, the mood of the story reflecting the extreme rain which is a feature of the plot - don't get me wrong, I love the rain, wet weather and dark skies are as mother's milk to me - but I don't want a wet and cloudy plot, as it were. SOS Meteors [think machines like Herge's The Calculus Affair but without the humour, excitement or imagination] was, dare I say it, boring. Mortimer drives into a lake at night in the middle of the French countryside and subsequently battles to relocate the lake and the missing taxi driver while Orlik is, as usual, the villain of the piece. Orlik is the villain of every piece, which becomes a bit of a drag: we love serial villains - Carl Peterson in Bulldog Drummond, Erich von Stalhein in Biggles, and Tintin's Rastapopoulis - but to have the same one in every story is rather too much. One has to hand it to old orls however - he's nothing if not resiliant and always bounces back with a vengenace!
Review by Michael.Rimmer
27/08/2015
Whilst trying, with only partial success, to follow Professor Mortimer's investigations on a map of the area (a lot has obviously changed since 1954 when Jacobs wrote the story), I was pleasantly surprised to find that the good citizens of Toussus-le-Noble, a town that plays host to some of the action in this album, have named a road after the writer: Rue Ep Jacobs: Bien fait , mes amis!I like the atmosphere in this one, all dark, rainy and brooding. The usual protagonists and villains, which you are either starting to get bored of or find comforting, like a bowl of your favourite soup after a cold, wet day. I incline to the latter.