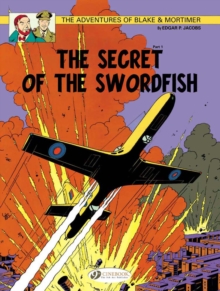 The Adventures of Blake and Mortimer : The Secret of the Swordfish, Part 1 v. 15
Paperback
Description
In a past almost, but not entirely, like ours, the world lives in dread of a new power, an empire centred in Tibet and led by a megalomaniac.
When the inevitable attack comes, it destroys all opposition, and capital cities across the planet are left burning.
But, in Great Britain, Professor Mortimer, inventor of a mysterious weapon named the Swordfish, and his friend and protector Captain Blake, have escaped the destruction, and must make their way to a secret base...
Information
Format: Paperback
Pages: 64 pages, col. Illustrations
Publisher: Cinebook Ltd
Publication Date: 07/02/2013
Category: Comics and Graphic Novels
ISBN: 9781849181488
Free Home Delivery
on all orders
Pick up orders
from local bookshops
Reviews
Showing 1 - 1 of 1 reviews.
Review by Michael.Rimmer
27/08/2015
I had wondered why the English translation of the original Blake and Mortimer adventure had been left so late, given that a lot of the earlier translated stories refer to events in the three volume <i>The Secret of the Swordfish</i>. Now that I've read this first installment, I understand why: it's very much a product of it's time. There's a lot of gung-ho, jingoistic rhetoric, with Blake and Mortimer out to give treacherous Johnny Foreigner types the damn good thrashing they deserve! This is particularly noticeable in the first half of the book, where the caricature representation of the people of the "Yellow Empire" seems offensive to the modern sensibility. Had this story been my first taste of the Daring Duo's adventures, I'm not sure that I'd have come back for more.Getting past that, Blake and Mortimer have their first encounter with Ahmed Nasir, who will be their companion on several later adventures, and he is presented in a heroic and independent light in this introduction to his character.The adventure itself involves a 'Yellow Peril' type plot, with a surprise atomic attack on principal Western cities being the result of complacent post-War government's refusal to head the warnings given by Blake and Mortimer of the mounting threat in the East. Some of these devastated cities are visited in subsequent adventures, although they seem to have readily shrugged off the atomic holocaust unleashed by Basam Damdu.As the subtitle, <i>The Incredible Chase</i>, suggests, most of the story is spent by Blake and Mortimer fleeing from Olrik in order to reach their secret base where the mysterious Swordfish Project promises to provide the means of turning the tide against the invading enemy. It's straight-forward action adventure stuff in the mold of the "Gott in Himmel!" style war comics that were popular up to the mid-1970s. I was able to enjoy it by suspending part of my critical faculty. If this is your first exposure to Blake and Mortimer, persevere: they get better.