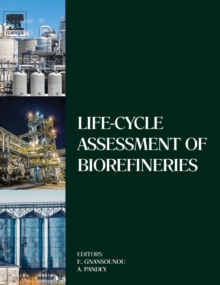 Life-Cycle Assessment of Biorefineries
Hardback
Description
Life-Cycle Assessment of Biorefineries, the sixth and last book in the series on biomass-biorefineries discusses the unprecedented growth and development in the emerging concept of a global bio-based economy in which biomass-based biorefineries have attained center stage for the production of fuels and chemicals. It is envisaged that by 2020 a majority of chemicals currently being produced through a chemical route will be produced via a bio-based route.
Agro-industrial residues, municipal solid wastes, and forestry wastes have been considered as the most significant feedstocks for such bio-refineries.
However, for the techno-economic success of such biorefineries, it is of prime and utmost importance to understand their lifecycle assessment for various aspects.
Information
Format: Hardback
Pages: 322 pages
Publisher: Elsevier Science & Technology
Publication Date: 12/01/2017
Category: Biotechnology
ISBN: 9780444635853