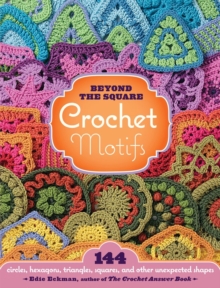 Beyond the Square Crochet Motifs
Hardback
Description
Learn to crochet, make a granny square. It's a simple formula that has held true for decades.
Crocheters love granny squares because the technique is simple to learn but the possibilities are endless.
Vary the colours. Use the same colours but change their placement. Add unique images. Make the same square over and over but in different sizes.
There is much to love about the classic square crochet motif. But if it's hip to make squares, imagine the coolness quotient of circles, stars, triangles and hexagons.
Beyond the Square Crochet Motifs introduces crocheters to more than 150 designs of every size and shape.
Full colour photographs capture the intricate details and colour work in each motif, and the stitching instructions offer the flexibility of being presented in both text and symbol formats. Each motif can be quickly crocheted and then used as a small embellishment on a larger item - or combined with other motifs to create original pieces, from baby blankets to tote bags.
Edie Eckman inspires readers to see the world of possibility in each motif.
Master the technique, then let the imagination run wild. Motifs give crocheters the freedom to play with shape, colour, and texture in patterns that are small and quickly completed.
Motifs - each one a tiny work of art - are at once addictive and rewarding.
With its unexpected range of shapes, designs and colour ideas, Beyond the Square Crochet Motifs will keep enthusiasts happy for a very long time!
Information
Format: Hardback
Pages: 192 pages, 200 colour illustrations
Publisher: Storey Publishing LLC
Publication Date: 30/07/2008
Category: Knitting & crochet
ISBN: 9781603420396
Free Home Delivery
on all orders
Pick up orders
from local bookshops
Reviews
Showing 1 - 1 of 1 reviews.
Review by lauriehere
16/06/2015
I give this book a "5 Star"!!!! This book is the BEST crochet pattern book I have EVER bought! First of all, it is Sprial-Bound, which makes it SO EASY to follow the directions while you are crocheting! The book can even stand up on it's own! This book contains every possible type of motif you could possibly want to crochet! This book contains directions in words and as a chart. It even exlains HOW TO USE A CHART, which for me I find is very difficult at times. This book has taught me some things I never about, and I have been crocheting for at least 10 years now! You always learn something new in every book you read/buy, but often, when it comes to crafts, it is uncommon to learn new things. NOT with this book! I am amazed at ALL it covers! It also covers HOW to make your OWN motifs, how to make your own CHARTS! From the beginner to the advanced crocheter, this book is invaluable! I would be at a loss if I knew this book existed and it was NOT in my library! I give it a 5 star! For the people who gave it only a 1 to a 3.5 star, I don't understand WHY they would rate it SO LOW??? This book is the BEST individual motif crochet book I have ever come across! The amount of information it contains is invaluable on it's own!