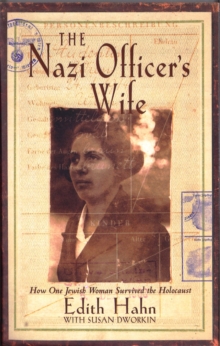 The Nazi Officer's Wife : How One Jewish Woman Survived the Holocaust
Paperback
Description
Edith Hahn was a young law student in Vienna when Hitler absorbed Austria in 1938. Madly in love with a young man called Pepi who was half-Jewish, she was separated from him and sent to a forced labour camp. So began the extraordinary chain of events that led to her return to Vienna, her life as a 'hidden' Jew with an identity given to her by a German girlfriend, her marriage to a Nazi who knew she was Jewish and protected her, her intervention through her husband on behalf of Pepi, and her life at the end of the war in Eastern Germany where she was appointed a judge over the persecutors of her people. She fled the Communist regime there because of the conflicting emotions she felt for these who had NOT informed on her. She settled and married in London, and now lives in Israel, aged 84.
Information
Format: Paperback
Pages: 320 pages, Section: 16, B&W
Publisher: Little, Brown Book Group
Publication Date: 01/03/2001
Category: Autobiography: general
ISBN: 9780349113791
Free Home Delivery
on all orders
Pick up orders
from local bookshops
Reviews
Showing 1 - 3 of 3 reviews.
Review by Brandie
16/06/2015
Really, what can I say? I can't imagine going through that and having to live such a lie. I think I would have cracked under the pressure and not have survived. God bless her for surviving and being so strong. I did read it and think my problems aren't nearly that big and if she can survive that, well, I can survive crabby kids, not enough sleep, too many piles of laundry, etc. Definitely a great book to read.
Review by slarsoncollins
16/06/2015
Fabulous book following the life of one Jewish woman through Nazi Germany. There was so much I wasn't aware of about the lives and trials of those who couldn't escape. I highly recommend this one.
Review by MauriceRogevMemorial
16/06/2015
This is the autobiography of a Jewish girl who grew up in Vienna got a legal degree and survived the war in Germany to eventually live in Israel. Dollfuss was the Chancellor of Austria till he was assassinated by Nazis in 1934. Basically to keep the Nazi's out he became a dictator and dissolved the constitution. After him Schuschnigg took over but was forced to resign to a Hitler ultimatum followed by the AunschlussWhat is interesting in that they still had access to post. Slave labourers in Germany seem to have better conditions than those in other conquered places.Edith got a holiday to return to Vienna and was supposed to report for deportation to Poland but has heard how bad conditions were there from soldiers writing to Jewish girlfriends. The interesting thing is that she had many friends who were high up in the Nazi party. She was told to find an Aryan friend who would say that she lost her papers while boating in the Danube and would get new copy. Edith would get the old one but had to leave Vienna and find work in the Red Cross as all other jobs were on a national register.In Munich she worked as a nurse aid. After the fall of Stalingrad, Goebbels called for 4 days of mourning and greater sacrifices in "total war"You could be sent to jail for listening to foreign radio but she discovered that one neighbour would sing another would knocking woodwork while they all listened to BBC or Swiss Radio in German.She learned that only 6000 German troop got home after Stalingrad.On BBC she heard the voice of the writer Thomas Mann as well as the Chief Rabbi Hertz of Britain who spoke in German. Before the Russians came her husband realised that it was better to keep cash than to leave it in the bank. In The Russian sector instead of the Gestapo the Soviets brought the KGB again everybody were supposed to be informers so she knew she had to leave and got to England where she had a sister.