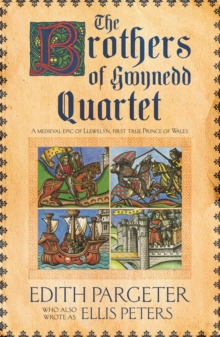 The Brothers of Gwynedd Quartet
Paperback / softback
Description
From Edith Pargeter, who also wrote as Ellis Peter, BROTHERS OF GWYNNED is an epic quartet of novels telling the dramatic tale of Llewelyn, the first true Prince of Wales. 'A richly textured tapestry of medieval Wales' Sunday TelegraphLlewelyn has a burning vision: one Wales, united against the threat of the English.
But, before he can realise his dream, Llewelyn must tackle enemies closer to home.
Llewelyn's three brothers all stand in the way of his ambition to create an independent state.
The best-loved of the three, David, was brought up at the English court.
Restless, charming and torn between loyalties, David is fated to be his brother's undoing.
Despite the support of Llewelyn's beloved wife, Eleanor, Llewelyn finds himself trapped in a situation where the only solution is his own downfall and a tragic death... Here, in one volume, is the entire saga of the Brothers of Gwynedd, including:SUNRISE IN THE WESTTHE DRAGON AT NOONDAYTHE HOUNDS OF SUNSETAFTERGLOW AND NIGHTFALL'Strong in atmosphere and plot' Daily Telegraph
Information
Format: Paperback / softback
Pages: 960 pages
Publisher: Headline Publishing Group
Publication Date: 17/08/1989
Category: Historical fiction
ISBN: 9780747232674