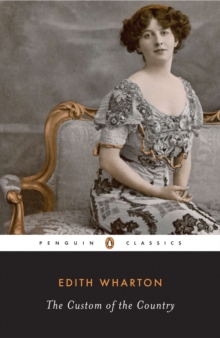 The Custom of the Country
Paperback
Description
Edith Wharton's novels of manners seem to grow in stature as time passes.
Here she draws a beautiful social climber, Undine Sprague, who is a monster of selfishness and honestly doesn't know it.
Although the worlds she wants to conquer have vanished, Undine herself is amazingly recognizable.
She marries well above herself twice and both times fails to recognize her husbands' strengths of character or the weakness of her own, and it is they, not she, who pay the price.
Information
Format: Paperback
Pages: 352 pages
Publisher: Penguin Books Ltd
Publication Date: 30/05/2006
ISBN: 9780143039709
Other Formats
Paperback from £4.85
Hardback from £9.15
Paperback / softback from £7.95
EPUB from £1.07
Free Home Delivery
on all orders
Pick up orders
from local bookshops
Reviews
Showing 1 - 5 of 10 reviews.
Previous | Next
Review by missmaya
16/06/2015
I picked this up because Age of Innocence is one of my favorite books, Undie Spragg is an amazing name for a heroine and it was a dollar. I've enjoyed it, but I haven't been moved to finish it.
Review by hemlokgang
16/06/2015
Edith Wharton's damning portrait of the never satisfied, social climbing, money grubbing American is an excellent read. Follow the marital career of Undine Spragg and cringe throughout the entire story. Undine represents all that is base and ugly about the upstart American women contrasted with the elegant, complex European social system. I particularly love the closing, as Undine ponders her awareness that there is one thing she cannot have. She cannot be the wife of an asmbassador because she has been divorced. How crushing! To me, this is a harsher, blunter Edith Wharton than I am used to, yet still wonderful!
Review by upstairsgirl
16/06/2015
Undine Spragg, Wharton's eminently unlikable heroine, is a grasping, abrasive, ill-tempered, clueless social climber who is only really ever interested in that which is out of her reach.In some ways, Undine is the anti-Lily Bart, even though both women are constantly putting themselves in rather compromising positions with men to whom they are not married in order to obtain financial security. Undine's idea of financial security, however, is to be rich enough to indulge her every whim without ever having to hear a word of reporach. Sadly for her, she marries repeatedly and in haste men whose resources do not equal their reputations, and finds herself under continual financial strain.Wharton's at her driest and funniest here; she's a uniquely American combination of Dickens and Austen, satirizing social convention and the money-grubbing that seems so often to go along with it, but also painting a picture of the vast unhappiness that the social structure forces not just on Undine, but also on the men who bob, bewildered, in her glittering wake. I don't like this as well as The House of Mirth, but it's just as good, and makes an interesting contrast with that more famous work. As with other Penguin Classics, I'd leave the introduction for afterwards if you chose that edition of the work.
Review by corinneblackmer
16/06/2015
Undine Spragg, a woman of powerful and thoughtless beauty in the Paris Hilton school of vulgarity, must arouse the disgust and impatience of all decent readers, even while arousing their curiosity as to how far, this time, she might be willing to go to achieve her ends. Wharton's intention in this tragicomic novel was to critique the weakness of the established ruling classes, as exemplified by the husband of Undine who commits suicide, in the face of the challenge from a vulgar breed of interlopers who sought out society to realize their ambitions for place and power. Of all the most revolting qualities of Undine, apart from her indifference to the husband she leads to commit suicide, must be her attitude towards her children, whom she does not scruple to use as political footballs in her quest for recognition and acceptance. Fortunately, she meets, in her last husband, a dangerous and breathtakingly materialistic man who is thoroughly her match.
Review by SlayBelle
16/06/2015
This was the first Edith Wharton I read, having lucked out of Ethan Frome in high school. I was totally gabsmocked by the book -- what a wonderful, snarky, insightful novel. That the heroine is almost completely unsympathetic didn't make me want to put it down for a moment.