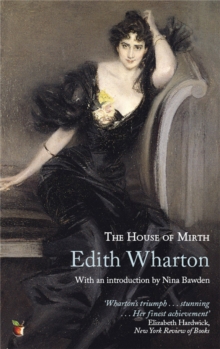 The House of Mirth
Paperback
Description
First published in 1905, THE HOUSE OF MIRTH shocked the New York society it so deftly chronicles, portraying the moral, social and economic restraints on a woman who dared to claim the privileges of marriage without assuming the responsibilities.Lily Bart, beautiful, witty and sophisticated, is accepted by 'old money' and courted by the growing tribe of nouveaux riches.
But as she nears thirty, her foothold becomes precarious; a poor girl with expensive tastes, she needs a husband to preserve her social standing and to maintain her in the luxury she has come to expect. Whilst many have sought her, something - fastidiousness or integrity- prevents her from making a 'suitable' match.
Information
Format: Paperback
Pages: 352 pages
Publisher: Little, Brown Book Group
Publication Date: 19/01/2006
ISBN: 9781844082933
Other Formats
Paperback from £2.50
Hardback from £8.35
EPUB from £0.99
Free Home Delivery
on all orders
Pick up orders
from local bookshops
Reviews
Showing 1 - 5 of 18 reviews.
Previous | Next
Review by Katie_H
16/06/2015
Definitely not "mirthful," this downer of a classic is a social commentary and primer on manners of the wealthy-elite community during the turn-of-the-century Gilded Age. It is the story of Lily Bart, a poor girl, who does her best to fit into the closed and cruel society of the rich New York aristocracy. Money and greed become the center of her universe as she spends and gambles away whatever she has. She is beautiful and witty, so she is surrounded by suiters, both single and married. She forms what she understands to be a business partnership with one of the married admirers, and the relationship leads to her downfall when she is accused of having an affair with him. Deeply in debt and even deeper in depression, she struggles to stay afloat, even turning to Laudanum to help her sleep. Her descent is heartbreaking and disturbing, but her revelations are deeply moving. This melodrama is a fantastic reading experience, and I highly recommend it to all.
Review by skullstuffing
16/06/2015
One of my favourite books - improves on every reading.<br/>
Review by tsjoseph
16/06/2015
Poor poor Lily Bart. She's maddening! A great book, but not an easy one.
Review by Zommbie1
16/06/2015
Unfortunately this is going to be my first abandoned book of the year. I found Lily to be far to annoying for me to be able to finish the book. I listened to it on audio and I missed loads because I got distracted since the book didn't keep my attention.The language was beautiful but did at times ramble. To my mind nothing really happened. Lily was to blame for her predicament in life. She was arrogant and entitled. She had a great deal of distain for all those around her. She was snobbish and plain annoying.What it did show quite well was how trapped women of Lily's class were. If they were not independently wealthy they were dependent on a husband or on relatives. They had few chances to earn their own money and they weren't educated to take care of themselves. This issue is of great interest to me and possibly why I stuck with the book for as long as I did.The narrator was actually quite good. She managed to capture the tone of Lily and her world very well. There was also none of the annoying music one sometimes gets with audio book.I really wish I had liked it more than I did. Maybe I will try and read a physical copy of it.
Review by Smiler69
16/06/2015
Set in and around New York in the 1890's, The House of Mirth tells the story of the beautiful and charming Lily Barth, who at 29 is still unmarried, but has hopes of making a brilliant match. Lily's friends are all members of New York high society, a well-heeled crowd made up of Wall Street financiers and their wives, such as Judy Trenor, who takes great pride in entertaining crowds as the most fashionable hostess at her summer residence Bellomont where one of the preferred activities is playing bridge for large sums of money. Lily's biggest problem is keeping up with these big spenders, and though she is a regular at Bellomont, where he good looks and well-honed social skills are well received, she finds it demeaning that Judy should make her pay her way by giving her little jobs to do, such as helping her keep guest lists in order. While she has been brought up wanting for nothing, Lily's now-deceased parents have left her destitute following her father's bankruptcy. She has since been living with her old aunt Julia Peniston, and while Mrs. Peniston gives Lily money here and there so that she can keep herself in the latest fashions, she isn't so generous as to allow her niece any financial independence, and Lilly soon finds herself in trouble with a huge bridge debt to pay off. But this is only a temporary setback, since Lily and her friends look forward to her making a brilliant match. But shortly after learning that her latest rich prospect has plans to marry to another woman, Lily makes an appeal to Judy's husband Gus Trenor, a Wall Street financier, who promises her that a few smart transactions by him on the stock market with a modest investment will give her good returns. This arrangement proves to be very profitable for the young woman, but things soon start unravelling for her as Gus becomes more and more pressing, then demands that Lily put herself at his disposition. I enjoyed the wonderful writing in this novel of manners—my first by Edith Wharton—and it was clear that Mrs. Wharton was writing about a world that she knew well. The prevailing attitudes of the time and the class of people she describes were meticulously rendered, though about halfway through I started feeling things dragging along, until quite suddenly a scene with Gus Trenor indicated the beginning of a much steeper downward slide for the lovely Lily. As much as I hate to say it, the worse things got for her, the more interesting the novel became, despite the fact that—or perhaps <i>because</i>—I knew all too well what kind of distress Wharton's heroine must have suffered.
Also in the Virago Modern Classics series | View all