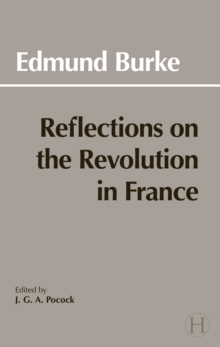 Reflections on the Revolution in France
Paperback
Description
John Pocock's edition of Burke's Reflections is two classics in one: Burke's Reflections and Pocock's reflections on Burke and the eighteenth century.
Information
Format: Paperback
Pages: 288 pages
Publisher: Hackett Publishing Co, Inc
Publication Date: 15/09/1987
Category: European history
ISBN: 9780872200203
Other Formats
Paperback from £4.85
Hardback from £12.35
EPUB from £2.99
PDF from £14.28
eAudiobook MP3 from £16.76
Free Home Delivery
on all orders
Pick up orders
from local bookshops
Reviews
Showing 1 - 1 of 1 reviews.
Review by stillatim
16/06/2015
How decayed is contemporary political discourse? So decayed that libertarians and small market conservatives consider Burke to be their forebear, and Marx to be the forebear of Democrats. I imagine that Marx and Burke would much rather have a beer with each other than with any of their lilliputian, soi-disant followers. <br/><br/>So, just to be clear. Burke claims that a society functions best when it has a completely stable set of institutions as its base: civil society, landed property, and a state/church marriage. Only if these persist will liberty give us worthwhile projects, rather than muck; only if they persist is capitalism and financial speculation anything other than a casino in which the rich get richer and the poor get shafted. <br/><br/>These institutions necessarily require what today we think of as 'government intervention.' The poor should be cared for; the benefits of social life should accrue to all, and not just the rich; the profits of the wealthy should be re-invested in productive enterprise and not frittered away on luxury or the aforementioned casino. <br/><br/>Burke is no more compatible with contemporary, so-called 'conservatism' than Marx is. They both saw the dangers of unrestrained capitalism. They both saw the dangers of 'utopian' revolutionary planning (although neither conservatives nor Marxist read those bits of Marx, for obvious reasons). Admittedly, Burke was a sycophantic, power-hungry hack; and Marx went from being a lunatic pamphleteer to an impressive but ineffectual research academic. Neither of them are role-models. But at least they were willing and able to think - actually *think* - about politics, rather than just spouting party line drivel. <br/><br/>All that aside, Burke's analysis of the French Revolution's violence is tendentious, sometimes slipping over into yellow journalism rather than convincing critique. He's not always wrong, but he is always hyper-polemical, and that's never very constructive. His praise of English political institutions is far more interesting, as is his defense of landed property, although it's hard to distinguish the philosophical claims (need for stability in society) from the class-based ideology (stability is produced by Whig aristocrats). And his rhetoric with regard to the dangers of democracy (and, therefore, the libertarianism of the contemporary right) needs to be taken on board by anyone who cares that we're about to destroy our economic, social and environmental heritage: "The will of the many and their interest must very often differ, and great will be the difference when they make an evil choice… government is a contrivance of human wisdom to provide for human wants. Men have a right that these wants should be provided for by this wisdom. Among these wants is to be reckoned the want, out of civil society, of a sufficient restraint upon their passions." "The effect of liberty to individuals is that they may do what they please; we ought to see what it will please them to do, before we risk congratulations which may be soon turned into complaints… liberty, when men act in bodies, is power."<br/><br/>The solution for the problems of democracy is not, alas, more democracy, as nice as it would be to think so. <br/><br/>Also, the introduction to this Hackett edition is great, although Pocock doesn't really *show* that Burke wasn't in a rage against a proto-bourgeoisie. He does state it over and over again, but it doesn't seem important enough a point to make, considering that Burke most certainly was in a rage against some people an awful lot like the bourgeoisie of the later nineteenth century.