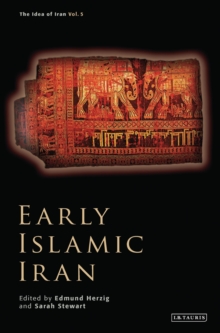 Early Islamic Iran
Hardback
Description
How did Iran remain distinctively Iranian in the centuries which followed the Arab Conquest?
How did it retain its cultural distinctiveness after the displacement of Zoroastrianism - state religion of the Persian empire - by Islam?
This latest volume in "The Idea of Iran" series traces that critical moment in Iranian history which followed the transformation of ancient traditions during the country's conversion and initial Islamic period.
Distinguished contributors (who include the late Oleg Grabar, Roy Mottahedeh, Alan Williams and Said Amir Arjomand) discuss, from a variety of literary, artistic, religious and cultural perspectives, the years around the end of the first millennium CE, when the political strength of the 'Abbasid Caliphate was on the wane, and when the eastern lands of the Islamic empire began to be take on a fresh 'Persianate' or 'Perso-Islamic' character.
One of the paradoxes of this era is that the establishment throughout the eastern Islamic territories of new Turkish dynasties coincided with the genesis and spread, into Central and South Asia, of vibrant new Persian language and literatures. Exploring the nature of this paradox, separate chapters engage with ideas of kingship, authority and identity and their fascinating expression through the written word, architecture and the visual arts.
Information
Format: Hardback
Pages: 192 pages, 15 integrated bw
Publisher: I.B.Tauris & Co. Ltd.
Publication Date: 30/11/2011
Category: Middle Eastern history
ISBN: 9781780760612
Free Home Delivery
on all orders
Pick up orders
from local bookshops