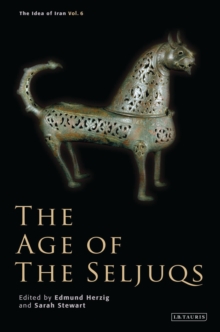 The Age of the Seljuqs
Hardback
Description
From their ancestral heartland by the shores of the Aral Sea, the medieval Oghuz Turks marched westwards in search of dominion.
Their conquests led to control of a Muslim empire that united the territories of the Eastern Islamic world, melded Turkic and Persian influences and transported Persian culture to Anatolia.
In the eleventh and twelfth centuries the new Turkic-Persian symbiosis that had earlier emerged under the Samanids, Ghaznavids and Qarakha-nids came to fruition in a period that, under the enlightened rule of the Seljuq dynasty, combined imperial grandeur with remarkable artistic achievement.
This latest volume in The Idea of Iran series focuses on a system of government based on Turkic 'men of the sword' and Persian 'men of the pen' that the Seljuqs (famous foes of the Crusader Frankish knights) consolidated in a form that endured for centuries.
The book further explores key topics relating to the innovative Seljuq era, including: conflicted Sunni-Shi'a relations between the Sunni Seljuq Empire and Ismaili Fatimid caliphate; architecture, art and culture; and politics and poetry.Istvan Vasary looks back in Chapter 1 to the early history of the Turks in the wider Iranian world, discussing the debates about the dating and distribution of the early Turkish presence in Central Asia, Iran and Afghanistan. NizaAZm al-Mulk is the subject of Chapter 2, in which Carole Hillenbrand subjects this 'maverick vizier' to critical scrutiny.
While paying due credit to his extraordinary achievements, she does not shy away from concluding that his career illustrates the maxim that 'power corrupts and absolute power corrupts absolutely'.
A fitting antagonist for NizaAZm al-Mulk is the subject of Chapter 3, in which Farhad Daftary follows the career of the remarkable revolutionary leader Hasan-i SabbaAZh and the history of the Ismaili state-within-a-state that he founded with his capture of the fortress of Alamt in 1090.
In Chapter 4 David Durand-Guedy examines the Seljuq Empire from the viewpoint of its (western) capital, Isfahan.
He concentrates on the distinction between the parts of Iran to the west of the great deserts (and in close connection to Iraq and Baghdad) and the parts to the east, notably Khorasan, with its ties to Transoxiana and Tokharestan.Vanessa Van Renterghem in Chapter 5 challenges the long-held view that the Seljuq takeover of Baghdad represented a liberation of the Abbasid caliphs from their burden-some subordination to the heretical Buyids. Alexey Khismatulin in Chapter 6 presents a forensic examination of two important works of literature, casting doubt on the authorship of both the Siyar al-muluAZk attributed to NizaAZm al-Mulk and the NasAZhat al-muluAZk ascribed to al-GhazaAZlAZ.
In Chapter 7 Asghar Seyed-Gohrab discusses the poetry of the Ghaznavid and Seljuq periods, demonstrating the poets' mastery of metaphor and of extended description and riddling to build suspense.
The final chapter by Robert Hillenbrand shifts the focus from texts and literature to architecture and to that pre-eminent Seljuq masterpiece, the Friday Mosque of Isfaha
Information
Format: Hardback
Pages: 200 pages
Publisher: I.B.Tauris & Co. Ltd.
Publication Date: 30/11/2014
Category: Middle Eastern history
ISBN: 9781780769479
Free Home Delivery
on all orders
Pick up orders
from local bookshops
Also in the Idea of Iran series | View all