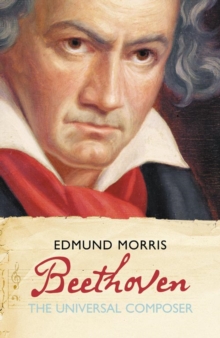 Beethoven : The Universal Composer
Hardback
Description
Pulitzer-prize winning biographer Edmund Morris interweaves the personal history of the world's most famous composer with an insightful exploration of the way Beethoven's life was reflected and embodied in his genius and his music. Eminent Lives is an exciting and groundbreaking series that pairs great biographers, historians and novelists with iconic subjects, building on a biographical tradition that can be traced back to Aubrey's `Brief Lives', Dr Johnson's `Lives of the Poets' and Lytton Strachey's `Eminent Victorians'. 'To preserve a becoming brevity which excludes everything that is redundant and nothing that is significant,' wrote Strachey. 'That, surely, is the first duty of the biographer.'Edmund Morris, the author of three bestselling presidential biographies and a lifelong devotee of Beethoven, brings the great composer to life as a man of astonishing complexity and overpowering intelligence.
A gigantic, compulsively creative personality unable to tolerate constraints, he was not so much a social rebel as an astute manipulator of the most powerful and privileged aristocrats in Germany and Austria, at a time when their world was threatened by the rise of Napoleon Bonaparte. But Beethoven's achievement rests in his immortal music.
Struggling against progressive, incurable deafness (which he desperately tried to keep secret), he nonetheless produced towering masterpieces, such as his iconic Fifth and Ninth symphonies.
With sensitivity and insight, Edmund Morris illuminates Beethoven's life, including his interactions with the women he privately lusted for but held at bay, and his work, whose grandeur and beauty were conceived `on the other side of silence.'
Information
Format:Hardback
Pages:256 pages
Publisher:HarperCollins Publishers
Publication Date:05/03/2007
Category:
ISBN:9780007213702
Also in the Eminent Lives series | View all