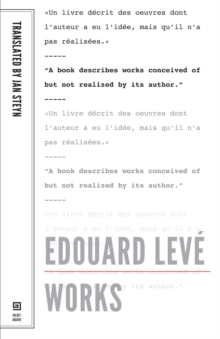 Works
Paperback / softback
Description
"A book describes works conceived of but not realized by its author." Like "Suicide" and "Autoportrait," "Works" is another of Eduoard Lev?'s bewitching reconceptions of what the novel can (or should) do.
A list of 533 projects, beginning with its own description--both likely and unlikely, sober and ridiculous; some of which Lev? later realized, most of which he did not--"Works" ranks with the fiction of Georges Perec for its seemingly limitless, ingenious, and comical inventiveness.
A lampoon of conceptual art--if not, indeed, an exemplar of its charms at their best--"Works" is another piece in the puzzle of Lev?'s brief and fascinating life.
Information
Format: Paperback / softback
Pages: 208 pages
Publisher: Dalkey Archive Press
Publication Date: 20/06/2014
ISBN: 9781564789037