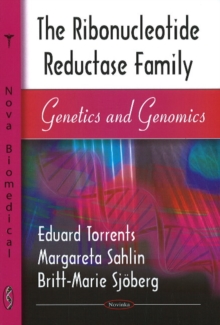 Ribonucleotide Reductase Family : Genetics & Genomics
Hardback
Description
Ribonucleotide reductase (RNR), a universal enzyme present in essentially all living cells and organisms, has a central role in DNA replication and repair by catalysing production of deoxyribonucleotides from the corresponding ribonucleotides.
Three major classes of RNRs are known, differing in their cofactor requirements: class I RNRs (with subclasses Ia and Ib) carry a stable tyrosyl radical and are oxygen-dependent, class II RNRs require the vitamin B12 cofactor 5'-deoxyadenosylcobalamin and are oxygen-independent, and class III RNRs carry a stable glycyl radical and are oxygen-sensitive.
Despite these differences, all classes have a similar reaction mechanism and the same highly specific catalytic core structure, indicating that they evolved from a common ancestor.
Biochemical studies of RNRs from selected model organisms in combination with the vast number of deduced RNR sequences from publicly available complete genomic sequences show that whereas eukaryotes and their viruses with few exceptions contain only class Ia RNRs, all three major RNR classes are found among prokaryotes and bacteriophages and quite often one organism encodes more than one class of RNR.
They are compiled in an open access database, called RNRdb for Ribonucleotide Reductase database that is available at http://rnrdb.molbio.su.se.
RNRs are produced in a strictly controlled way depending upon growth phase and environmental cues.
The authors describe a comprehensive summary of how the expression of RNR genes is regulated in several eubacterial organisms and in yeast.
Due to RNR's importance for the realisation of DNA replication, it has been recognised as a possible target for antiproliferative therapy.
The authors present a comprehensive summary of RNR-specific inhibitors that have reached clinical trials and/or are currently used in clinical therapy.
Information
Format: Hardback
Pages: 99 pages, b/w illus
Publisher: Nova Science Publishers Inc
Publication Date: 05/05/2009
Category: DNA & Genome
ISBN: 9781606924198
Free Home Delivery
on all orders
Pick up orders
from local bookshops