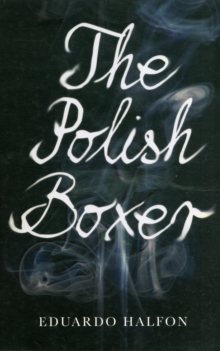 The Polish Boxer
Paperback
Description
Eduardo Halfon's The Polish Boxer is the sparkling English debut from one of Latin America's most exciting new voices.Blurring the boundary between fiction and memoir, the tales within all reach for the beautiful and fleeting, whether through humour, music, poetry, or unspoken words.
Throughout his encounters with fascinating collection of characters, the narrator - a Guatemalan literature professor and writer named Eduardo Halfon - pursues his most enigmatic subject: himself.Translated from the Spanish by Daniel Hahn, Ollie Brock, Lisa Dillman, Thomas Bunstead and Anne McLean, Eduardo Halfon's The Polish Boxer is published by Pushkin Press.Eduardo Halfon was born in Guatemala and now lives in Nebraska.
He has published ten works of fiction in Spanish and been recognized as one of the finest Latin American writers currently working.
The Polish Boxer is his first book to be published in English.
He recently received a Guggenheim Fellowship to continue working on his grandfather's story. 'The writing is tight and lean in these stories and there are exquisite moments (...) Falling somewhere between the novels of Roberto Bolano, WG Sebald and Junot Diaz, The Polish Boxer is erratic, unusual and invigorating - and a book that should deservedly usher in further translations of his work.' Stuart Evers, - Daily Telegraph 'It's the most memorable new novel I have read all year - the voice pitch-perfect, the imagery indelible.
What a wonderful writer' - Norman Lebrecht'Halfon's English language debut is a glorious new addition to those decidedly non-fiction-ish works of fiction that keep getting us all worked-up these days... the result is a brave and touching and dead stylish examination of the nature of fiction, truth and lies nowadays..'- Dazed and Confused '[Halfon] willfully and delightfully blurs the boundaries among novel, memoir and meditation... the power of The Polish Boxer is that it is always rooted in the personal.
It is deeply accessible, deeply moving'- LA Times It is not often that one encounters such a mix of personal engagement and literary passion, of pain and tenderness'- Andres Neuman, author of Traveller of the Century 'We cannot resist following the author/narrator by thinking of possible ways of deceiving him in return in a fascinating thriller.
This is a stimulating and inspiring read.'- Emilia Ippolito, Independent 'The Polish boxer?
There may never have been one. Yet this in no way diminishes the pleasure Halfon's myriad stories afford.'-New York TimesListed Book of the Year 2012 by LA TimesEduardo Halfon was born in Guatemala and now lives in Nebraska.
He has published ten works of fiction in Spanish and been recognized as one of the finest Latin American writers currently working.
The Polish Boxer is his first book to be published in English.
He recently received a Guggenheim Fellowship to continue working on his grandfather's story.
Information
Format: Paperback
Pages: 192 pages
Publisher: Pushkin Press
Publication Date: 01/10/2012
ISBN: 9781908968074
Free Home Delivery
on all orders
Pick up orders
from local bookshops
Reviews
Showing 1 - 5 of 9 reviews.
Previous | Next
Review by abealy
16/06/2015
The Polish Boxer is a marvelous read that flows in a journal-like stream, connected from story to story by the author/narrator and his restless quests.Eduardo Halfon has written himself into these tales as the main witness and the foil for the wonderful cast of characters that pass through his life: his grandfather (whose story hinges on his encounter with the Polish boxer); Fava, the student who is there as a sort of ghost that must be searched for; Milan Rakic, a classical pianist, a gypsy spirit who wanders the world in search of his muse, pulling Eduardo in his wake.Cigarettes and smoke are an intrinsic part of this book. Characters light up in bars and beds, in brothels and street corners. I felt like I had a 2-pack-a-day habit when I reached the last story.Smoke also suggests the transient nature of history (it is there always, creating impressions and remembrance, and yet never quite revealing the truth). This is a book of encounters and loss; of journeys to reconnect. For a book that boasts five translators the text holds together well and the stories are a heady blend of magic and reality. Highly recommended.
Review by noveltea
16/06/2015
This is one of those books some people call a novel and others call short stories. While I don't think the sections add up to a completely satisfying novel, they are better and more resonant for being together, and in fact most of the sections lack the plot to stand on their own as stories. This is a novel of ideas, and those ideas are explored in various ways; it isn't surprising that I liked some of the ways more than others. However, this is ultimately a book I could write an interesting essay about, if I had to, but about which I can't write a very enthusiastic review.
Review by seidchen
16/06/2015
I can't echo the glowing reviews of this book that I've read. No, it's not bad. Yes, there are some nice moments, chief among them the nested gypsy stories in "The Pirouette," and a few lovely and convincing metaphorical images (translation through a series of languages, which results in a "last little deformed" Russian stacking doll; a Romany word, "patrin," that means a sign left along a trail to follow, "a handful of twigs tied up in a blue handkerchief, or goat bones sticking out of the ground"). But for me this book lacked cohesion. Maybe the fact that it was translated by no fewer than five people makes me feel the want of a consistent voice and characterization of the narrator. Or maybe it's the orgasm-drawing girlfriend—for that seems to be all there is to her—that I find thinly conceived and a little tiresome. Or maybe it's the turn at the end to a self-conscious consideration of literature as illusion and, ultimately, as failure to carry out an artistic vision that leaves me lukewarm.
Review by snash
16/06/2015
In The Polish Boxer the author explores the nature of reality, art, and identity via a collection of vignettes. The writing is exquisite. My only reservations are that sometimes it seemed the author was more obtuse than necessary. There were also some scenes whose point I missed. They were mesmerizing nonetheless.
Review by fuzzy_patters
16/06/2015
It's difficult to describe this book without giving too much away to those who have not read it. It is probably best described as a metafiction about the necessity of fiction to describe the human existence. The back cover of the book refers to mapping one's identity, but I do not think that does the book justice. It is about more than that with major themes including the futility of searching for meaning in art and, ironically, the beauty of literature that has meaning within the subtext of the story. The book is very insightful and has very clever references to art, music, and literature that enhance the story by challenging the reader to see things as they are rather than by the limited descriptions available in the English language. A fair warning should be given to the reader that there may be references made that will require the reader to do some research in order to fully appreciate the work. For example, I was unfamiliar with music of Thelonious Monk and ended up listening to a certain work of his that comes up in the book in order to gain a greater appreciation for the mood of the book. However, it well worth it, and I loved every page of this book. This one will probably require a second reading in the future to enhance my appreciation of it.