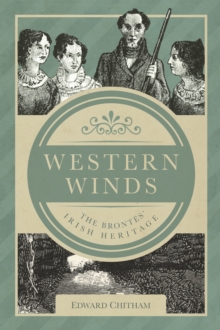 Western Winds : The Brontes' Irish Heritage
Paperback / softback
Description
The Irish heritage of the Bronte family has long been overlooked, partly because both Charlotte and her father Patrick did their very best to ensure that this was the case and partly because there was a strong understanding at the end of the nineteenth century that the Brontes were Yorkshire regional novelists.
Yet their ideas and attitudes, and perhaps even their storylines, can be traced to Ireland. This book, which develops ideas originally published in The Brontes' Irish Heritage in 1986, sets the record straight.
By re-evaluating the sources available, it traces Patrick's Irish ancestry and shows how it prevented him from achieving his ambitions; it shows how that heritage influenced his children's writings, particularly Emily; and it sheds further light on the genesis of Wuthering Heights.
Information
Format: Paperback / softback
Pages: 224 pages
Publisher: The History Press Ltd
Publication Date: 08/04/2015
Category: Literary studies: c 1800 to c 1900
ISBN: 9781845888336