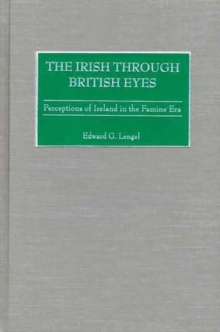 The Irish through British Eyes : Perceptions of Ireland in the Famine Era
Hardback
Description
The mainstream British attitude toward the Irish in the first half of the 1840s was based upon the belief in Irish improvability.
Most educated British rejected any notion of Irish racial inferiority and insisted that under middle-class British tutelage the Irish would in time reach a standard of civilization approaching that of Britain.
However, the potato famine of 1846-1852, which coincided with a number of external and domestic crises that appeared to threaten the stability of Great Britain, led a large portion of the British public to question the optimistic liberal attitude toward the Irish.
Rhetoric concerning the relationship between the two peoples would change dramatically as a result. Prior to the famine, the perceived need to maintain the Anglo-Irish union, and the subservience of the Irish, was resolved by resort to a gendered rhetoric of marriage.
Many British writers accordingly portrayed the union as a natural, necessary and complementary bond between male and female, maintaining the appearance if not the substance of a partnership of equals.
With the coming of the famine, the unwillingness of the British government and public to make the sacrifices necessary, not only to feed the Irish but to regenerate their island, was justified by assertions of Irish irredeemability and racial inferiority.
By the 1850s, Ireland increasingly appeared not as a member of the British family of nations in need of uplifting, but as a colony whose people were incompatible with the British and needed to be kept in place by force of arms.
Information
Format: Hardback
Pages: 200 pages
Publisher: ABC-CLIO
Publication Date: 30/05/2002
Category: British & Irish history
ISBN: 9780275976347
Free Home Delivery
on all orders
Pick up orders
from local bookshops