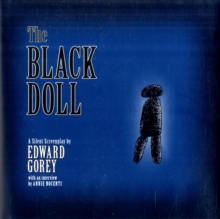 The Black Doll a Silent Screenplay by Edward Gorey A161
Hardback
Information
Format: Hardback
Pages: 72 pages
Publisher: Pomegranate Communications Inc,US
Publication Date: 01/05/2009
Category: Stationery items
ISBN: 9780764948015
Free Home Delivery
on all orders
Pick up orders
from local bookshops
Reviews
Showing 1 - 5 of 6 reviews.
Previous | Next
Review by abealy
16/06/2015
If I had to choose a literary property to heavily market after an author's death then it would be anything by Edward Gorey. From The Gashlycrumb Tinies to The Wuggly Ump, his work is a macabre delight. The surreal world of Gorey is infectious (in a good way!) and full of creepy details that become more enticing the deeper one looks.Happily, Pomegranate Press is in the process of re-releasing a half dozen of Gorey's best little tomes as well as a new biography and photo album and, here, published in book form for the first time, The Black Doll – a screenplay for a silent film that reminds us in a bizarre way of the wonder and excitement of the early days of cinema and the work of D.W.Griffith and Louis Feuillade. The surreal tableau is an inscrutable confection of masked balls, hidden precious icons and a cast of juicy villains.What does it all mean? A blend of all the best McGuffins from noir cinema of the early 20th century, Fu Manchu, Charlie Chan and the Perils of Pauline – as Gorey said, "What you see is what you get." And while the screenplay is a compelling work in itself, what we really get is a romp into the mind of one of our most treasured creative thinkers.I'm sure it was all to the better that Gorey's formal art training was "negligible". He studied art for one semester at the School of the Art Institute of Chicago in 1943, eventually becoming a professional illustrator. Hired by Doubleday Anchor, he designed covers for books by Henry James, H.G.Wells, C.P.Snow and dozens of others. In 1953 he published his first book, The Unstrung Harp and the rest is delightful history!An added bonus in The Black Doll is a revealing interview between Anne Nocenti and Edward Gorey that helps to fill in a lot of the ambiguous nature of the silent screenplay.
Review by jmgold
16/06/2015
The Black Doll may very well be the coolest book in my collection. The book contains an unproduced silent screenplay by the legendary Edward Gorey, as well as a lengthy interview with him conducted by Ann Nocenti. The interview is integral to the script that follows. The Black Doll is essentially a distillation of all of Gorey's theatrical influences, many of which are quite obscure to all but the most dedicated film buff. The interview covers that entry barrier to the following story quite well (along with a number of explanatory footnotes). Nocenti also does an amazing job of getting the somewhat reclusive Gorey to open up, making for a wonderful treat for fans.The screenplay that follows is classic Gorey, and it's actually pretty amazing just how easily it reads for something with out dialog. It also reads remarkably like his other stories, which clearly shows how silent films have influenced those tales as well. Reading this book has made me want to go back and reread everything else by Gorey just to see what else I can pick up in them now.This is an absolute must own for fans of Gorey, and for everyone else it is one of the clearest examples of just why they should read him.
Review by dmtmusic
16/06/2015
I don't have a lot to say about this book. I'm a big fan of Edward Gorey, but wasn't really taken with this screenplay. More interesting is definitely the interview that precedes it.
Review by g33kgrrl
16/06/2015
A book I received through the Early Reviewer program at Librarything. It's a screenplay for a silent film written by Gorey, although half the book is an interview with him about film. I had never heard of 95% of the films he discussed, so the interview kind of went over my head, but I'm going to go back to the book in front of my Netflix queue and do some adding.The screenplay itself was enjoyable, and I wish he'd had a chance to make it into a movie. He takes the concept of a Macguffin and builds a whole story around it, and delightfully includes with a masked ball (illustrations of the costumes are provided in the book). It takes up a lot of silent film tropes, but of course in a very Edward Gorey way. As a fan of his work, I very much enjoyed this.
Review by Bookmarque
16/06/2015
How to describe a Gorey book to someone who has never read one? It's like trying to describe a color no one has ever seen. In a sense, it is a very typical work. Cryptic. Enigmatic. Atmospheric. Surreal. Perversely funny. In another sense it is very atypical for Gorey. That is that it's a new medium; a screenplay. The interview transcript that precedes the story is almost entirely about Gorey's love for and expertise in silent film, something I have scant experience of. His opinion is that the worst thing to befall film is that the actors talk. A strange attitude to be sure, but one that works with his genius. Many of his books contain stories that while cohesive as a whole (if you let your imagination wander a bit), have words and dialogue that are wildly inappropriate, nearly meaningless (The Object-Lesson is perhaps the best example of this) or entirely absent. A silent film is perfect and I would love to see it performed.The core of this story is a MacGuffin in the form of the Black Doll which contains a PRO (priceless ritual object) from a mysterious ancient city. All the characters in the play are either trying to get their gloved hands on this object or anxious to keep it. There are a lot of cryptic scenes fraught with import that we get via subliminal vibrations more than via overt means. It is very dramatic and suspenseful. I had my doubts that it would convey as much tension to me as it did. Very effective. I love the name of the local bar – The Shattered Clavicle. And the names of the characters are typically silly – Professor Bedsock indeed. And the use of capital letters to distinguish the real Black Doll from the decoy black dolls is brilliant. I can imagine how unsettling the multiple roles of a single actor would be. All in all it reads like a masterpiece of love and devotion to his craft and silent films.One thing did puzzle me however. As it's a screenplay there is a good deal of 'business' outlined – that is what the actors should be doing during a particular scene. The scenes and costumes themselves are well described also. But it's the inner monologue or implied dialogue that stumps me. The only dialogue in the film itself is in the Title Cards which are shown to replace audible speaking. Many of the ideas expressed in the 'business' descriptions can only be conveyed in spoken dialogue or monologues. It is not expressed with the Title Cards. Strange. I tried reading it without going into the thoughts and ideas in those paragraphs, but as they are not segregated from the action that would be visible, it was hard to do. With only the Title Cards as a guide, I don't know if this movie would hold together well. Maybe that's the point. Gorey was never one to force his meaning onto his readers.And what Gorey book would be complete without his art? Never has so much been conveyed by pen and ink scratchings. Detailed. Dark. Disturbing. The seemingly random and unconnected appearance of strange and enigmatic characters is peppered throughout the narrative. They are wonderful as only Gorey characters can be. Many faces are skulls atop normal and benign bodies (a little girl, a gentleman in a top hat, a man in gauntlets and greatcoat). Others are surreal as they float in and out of our imaginations (the lizard-man in high heels, the Sister with the blacked out face, the insects). The interview text is interspersed with drawings from other books (my favorite one from The Object-Lesson is included). Each one is a joy to behold. A treasure-hunt of wonders to discover. I just love the disembodied foot in the one from The Gilded Bat. And the one on page 8 with a similarly positioned hand. Delicious. I will undoubtedly savor it again and again.