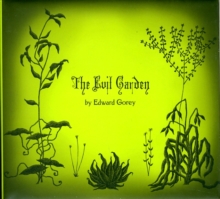 The Evil Garden A195
Hardback
Information
Format: Hardback
Pages: 32 pages
Publisher: Pomegranate Communications Inc,US
Publication Date: 15/03/2011
ISBN: 9780764958854
Free Home Delivery
on all orders
Pick up orders
from local bookshops
Reviews
Showing 1 - 5 of 22 reviews.
Previous | Next
Review by pvincent
16/06/2015
Edward Gorey at his most grimly humorous. This is the tale of a happy little family visiting a garden (Admission Free!), the deadly flora and fauna of which dispatch the family members, one by one, until the remaining few are left to vainly seek escape in the gathering darkness. The beautifully drawn pictures are each accompanied by merrily sombre couplets, charting the inevitable tragedy of this doomed family outing. Originally published in 1965, this is a very welcome Gorey reissue from Pomegranate Communications, who are doing a wonderful job of gradually releasing the late, much lamented, Mr.Gorey's gloriously macabre creations to a wider audience.
Review by PitcherBooks
16/06/2015
On the text: Just to set the record straight, I LOVE Edward Gorey! His art and text are a touch spooky, a touch funny and totally off- the-wall! The Evil Garden is nominally for children (as are most of his books) but find me an adult who won't enjoy it too. As far as I'm concerned it's a classic!The story starts with Free Admission(!) to a lovely garden for a dapper Edwardian family. What a lovely treat, eh? Or maybe not.... There is that remnant of a human foot peeking from under a large boulder. And as the story progresses... insects large enough to carry off a family member or two, an uncle-squeezing boa constrictor, an aunt-eating plant, quicksand that swallows a dear nanny, Such dire happenings! The absurd, fantastic and presumably deadly doings look as if they provoke at most,, an "oh my" or "dear me" from the various family members. Gorey's illustrations and his verse are the very definition of deadpan humor. I adore it. It amuses me to think of The Eagles using the 1965 edition of this title as the inspiration for the last lines in their 1977 Hotel California... "You can checkout any time you like,But you can never leave!" On the edition:Pomegranate did a very nice job on this re-issue. Sturdy hardcover with dustjacket and illustrated endpapers. One couplet per page is matched with a full page illustration. A keeper! [Disclaimer. Book received as an Advance Reading Copy in exchange for book review]
Review by SeaBill1
16/06/2015
I'd like to say that this book was charming. But it's not; it's almost grim, certainly macabre.And I'd like to say that Edward Gorey's couplets are almost doggerel. But somehow, it doesn't matter. One doesn't read Gorey for high literary content.Kudos to Pomegrranate Press for the lovely presentation and production of this slim tome. This is a perfect gift for anyone who loves a Gothic chill.
Review by invisiblelizard
16/06/2015
Couple of things I'll talk about here. First is the story and drawings. The story (poem?) is fine, quite in par with Gorey's usual clever macabre sense of humor, for which I'm glad I now own this book. The drawings are a little sparse. I am much more enthused by his intricate drawings. These leave an awful lot of white space on the page. They almost seem as if they were part of an unfinished project, but who am I to judge the master?Second, the book itself: the printing and the binding. Not the best. There was some ink transfer between pages that I was surprised to see. (I've got other Pomegranate books that are quite lovely, so this one may be an anomaly.) The binding is pulled thin on some pages (able to see the stitching) and on other pages glued an eighth of an inch in. Not consistent. Not very good quality.For a true Gorey fan, you'll buy this anyway, so you've probably already disregarded everything I've said. For the rest, there are truly better offerings available.
Review by sturlington
16/06/2015
I have been a fan of Edward Gorey since I was a Gashlycrumb tiny. This particular story (nursery rhyme? fairy tale?) is in Amphigorey Too, one of my favorite collections. A garden lures in a family with the promise of free admission and a gay afternoon, but one by one, each family member suffers a dire fate. This standalone edition by Pomegranate Communications is beautifully designed, with thick, glossy paper and a dustjacket in lurid pea-soup green. It makes a great addition to my Edward Gorey collection!