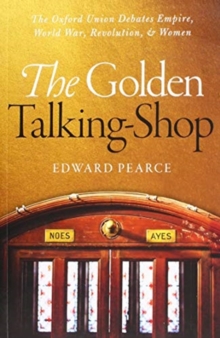 The Golden Talking-Shop : The Oxford Union Debates Empire, World War, Revolution, and Women
Paperback / softback
Description
In the late 1890s, Britain was basking in the high noon of empire, albeit with the sobering experience of the Boer War just around the corner.
By 1956, the year of the Suez debacle and less than a lifetime later, the age of empire was drawing rapidly to a close and Britain's position as an independent great power was over.
In between, the country had experienced two devastating world wars.
India-the jewel in her imperial crown-had gained independence. And there hadbeen far-reaching changes on the domestic front: the birth of the welfare state, full men's (and eventually women's) suffrage, and the foundation of the National Health Service, to name but a few.
Throughout this momentous period, the Oxford Union, the world's most famous debating society, continued to meet to debate and discuss the changing world around them.
Sometimes their debates had important repercussions in the wider world - such as the notorious 'King and Country' debate of 1933 which made headlines around the globe and which Winston Churchill described as that 'abject, squalid, shameless avowal.' More often than not, the debates had merely a local impact, even if among thedebaters were many of the leaders, thinkers, and opinion formers of the future, figures such as Harold Macmillan, Archbishop Temple, Edward Heath, and Tony Benn.
In The Golden Talking Shop, former Parliamentary sketch writer (and Union member) Edward Pearce tells the story of Britain-and the world-in the first half of the twentieth century as seen from the perspective of these Union debates: sometimes shocking, sometimes wittily amusing, and often both.
The students do most of the talking, along the way revealing the changing preoccupations, prejudices, and assumptions of their changing times.
A distinct pre-First World War fashion for SocialDarwinism is in due course replaced by a widespread 1930s penchant for Stalinism, with civilized opinion reliably breaking in on occasion too.
Above all, browsing these debates, taken straight from another age, gives the reader a vivid, sometimes piquant, sense of a Britain which is now passing from livingmemory-and serves as a powerful reminder of the ways in which the past and its attitudes really are a foreign country.
Information
Format: Paperback / softback
Pages: 688 pages
Publisher: Oxford University Press
Publication Date: 06/12/2018
ISBN: 9780198717249
Free Home Delivery
on all orders
Pick up orders
from local bookshops