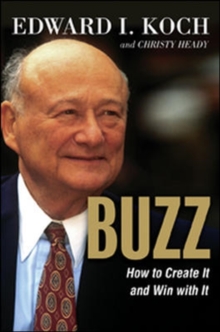 BUZZ. How to Create It and Win With It : How to Create It and Win with It
Hardback
Description
How does a political unknown, with little wealth or family connections, take on the most powerful figures in New York politics - and rise to the top, becoming not only the Mayor, but an enduring influential figure on the American scene.
According to the former Mayor of New York (for three terms, 1978-1989), Ed Koch, the explanation is "Buzz."In politics, creating a buzz is about making a memorable entrance by not letting the crowd forget who you are and what you stand for.
Koch has always been great at making an entrance, attracting attention, and getting people not only to take notice, but to listen. (How else, he suggests, does a loudmouth lifelong New York Democrat get a prime speaking slot at the Republican National Convention?) The book will showcase Koch's humor and legendary candor in an in-your-face, informative style.
In it, Koch reveals the secrets of his success, and explains how others can use his techniques to generate the kind of buzz that can further their business, public, and private lives...techniques that can make an unknown into a star.
Free Home Delivery
on all orders
Pick up orders
from local bookshops
Also by Edward I. Koch