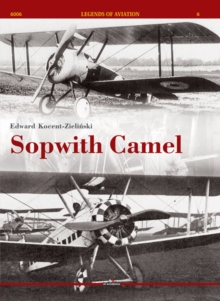 Sopwith Camel
Paperback / softback
Description
World War I*This volume does not contain supporting decalsThe Sopwith Camel was a British World War I single-seat biplane fighter introduced on the Western Front in 1917.
Manufactured by the Sopwith Aviation Company, it had a combination of a short-coupled fuselage, heavy, powerful rotary engine and concentrated fire from twin synchronised machine guns.
The Camel was credited with shooting down 1,294 enemy aircraft, more than any other Allied fighter in World War I. In level flight, the Camel was markedly tail-heavy.
Unlike the Sopwith Triplane, the Camel lacked a variable incidence tailplane, so that the pilot had to apply constant forward pressure on the control stick to maintain a level attitude at low altitude.
However the aircraft could also be rigged in such a way that at higher altitudes it was able to be flown"hands off." A stall immediately resulted in a spin, and the Camel soon became particularly noted for its vicious spinning characteristics. This book is a complete reference tool for any modeller or enthusiast, including highly detailed colour profiles, plan drawings and plenty of source photos in black and white and colour. About Legends of AviationThis is a collection of books detailing the oldest aircraft of the 20th Century, their units and the pilots who flew and fought in them.
Each volume contains archive photographs, scale drawings and colour profile artwork.
Information
Format: Paperback / softback
Pages: 72 pages, b/w and colour Photos, colour profiles
Publisher: Kagero Oficyna Wydawnicza
Publication Date: 01/03/2011
Category: First World War
ISBN: 9788361220947
Free Home Delivery
on all orders
Pick up orders
from local bookshops
Also by Edward Kocent-Zielinski
Also in the Legends of Aviation series