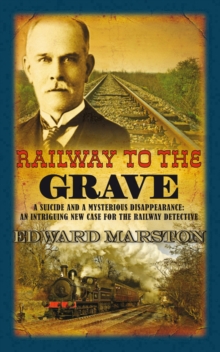 Railway to the Grave
Hardback
Description
Now here's a murd'rous tale of woe, See a hero misbehave.
For it shows a valiant soldier go By railway to the grave.
Yorkshire 1855. Colonel Aubrey Tarleton is a man respected by his neighbours in the small Yorkshire village of South Otterington - as much for his heroic feats in the army as for his social position.
So the community is left stunned when Tarleton, deliberately, walks into the path of a speeding train.
He is crushed to death on the track, but it is not his broken limbs that attract the attention of the train driver; rather, it is the note pinned to his chest, fluttering in the breeze: 'Whoever finds me, notify Superintendent Tallis of the Detective Department at Scotland Yard'.
The famous Railway Detective, Inspector Robert Colbeck, finds his superior officer in great distress when he arrives at the Yard the following morning.
Tallis is clutching a letter from his now-deceased friend.
In it, Tarleton makes it clear that he no longer wishes to live if he has to do so without his beloved wife, who has disappeared.
When the news arrives that a man's body has been found on the track near Thirsk, the coincidence is too great. Was Tarleton responsible for his wife's disappearance, and was his suicide the act of a guilty man?
Tallis cannot believe that to be the case and sets out for Yorkshire, accompanied by Colbeck and his trusty Sergeant Victor Leeming, determined to uncover the truth.
Information
Format: Hardback
Pages: 352 pages
Publisher: Allison & Busby
Publication Date: 07/06/2010
Category: Historical mysteries
ISBN: 9780749007720
Other Formats
Paperback from £6.15
EPUB from £5.60
Free Home Delivery
on all orders
Pick up orders
from local bookshops
Reviews
Showing 1 - 2 of 2 reviews.
Review by smik
16/06/2015
Yorkshire 1855. Colonel Aubrey Tarleton takes his own life by walking along a railway track near his home directly into the path of an oncoming train. He is a good friend of Superintendent Tallis of Scotland Yard, and pinned to Tarleton's chest is a note asking that Tallis be notified of his death.Tarleton and Tallis were army friends and Tallis refuses to believe that his friend has committed suicide, although the previous day he had received a letter from Tartleton. Goodbye, dear friend. Though her body has not yet been found, I know in my heart that she is dead and have neither the strength nor the will to carry on without her. I go to join her in heaven.Tallis is determined to get to the bottom of events and takes with him to Yorkshire his Scotland Yard team, the famous "Railway Detective" Inspector Robert Colbeck, and his assistant Sergeant Victor Leeming.This is the third in the railway detective series that I have read by Edward Marston, a pseudonym of Keith Miles. Like the others RAILWAY TO THE GRAVE gives a strong impression of authentic historical setting. I like my historical crime fiction to not just feel like crime fiction transplanted to another time period, but to also reveal something about the period in which it has been set. Marston manages to not only write a strong police procedural, but to tell us something about society of the 1850s, industrial England in which the story is set.
Review by Helenliz
16/06/2015
 Another one in the series starring the Railway Detective. A Yorkshire gentleman decides to commit suicide by walking in front of a train. Not nice. Turns out he was an ex-army colleague of Colbeck's boss, and went to his death with a note for him in his pocket. So Colbeck is sent to investigate. Turns into something more complex when it is revealed that the wife disappeared a few weeks ago, and hasn't been seen since. There's then a variety of avenues, including finance, revenge and love before the true events come to light. Well written, as usual, and left me guessing about what had happened until the end.