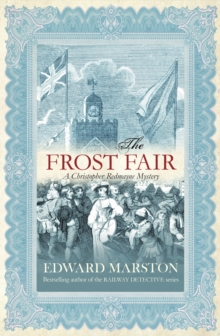 Description
Christmas, 1669. In the grip of the coldest winter for years, the River Thames is frozen from bank to bank and London celebrates with a traditional frost fair held on its broad back.
Revellers come from far and wide to enjoy the spectacle.
Among the throng is ambitious young architect Christopher Redmayne.
By chance he meets a good friend, Constable Jonathan Bale, attending with his family.
As the adults talk, Bale s sons skate around them. But their competitive nature spells trouble onto thin ice and is in danger of crashing into the freezing water below.
Christopher and Jonathan save the boy but make a chilling discovery the frozen corpse of a naked man embedded in the ice.
Bale vows to investigate but Christopher sees no reason to involve himself further until his own brother Henry is accused of the murder and thrown in jail.
Now Henry faces execution if Christopher cannot prove his innocence.
The architect must risk all he holds dear, both professionally and personally, to uncover the truth."
Information
Format: Paperback
Pages: 384 pages
Publisher: Allison & Busby
Publication Date: 02/01/2004
Category: Crime & mystery
ISBN: 9780749006389
Free Home Delivery
on all orders
Pick up orders
from local bookshops
Reviews
Showing 1 - 1 of 1 reviews.
Review by JulesJones
16/06/2015
I bought this because it was by the same author as the Railway Detective series, which I'd found enjoyable at the "read once" level. This is the fourth in the Restoration series, a mystery series about architect Christopher Redmayne and constable Jonathan Bale, set in Restoration London in the years following the Great Fire of 1666. I haven't previously read any in this series, but found that this worked well as a standalone, with enough backstory worked in to be able to follow who people were.A naked corpse is found frozen into the sheet of ice that has covered the Thames, and the most obvious suspect is Christopher's rake of a brother, who wakes up after a drunken night to find himself arrested and flung into Newgate. Christopher is convinced of his brother's innocence, not just out of filial loyalty but because he is only too aware of his brother's vices -- and violence is not among them. His friend Jonathan, on the other hand, is convinced of Henry's guilt, and not just because the Puritan Jonathan disapproves of Henry's lifestyle. The evidence at the scene is all too damning. But both men feel that justice will not be done unless the matter is properly investigated. And investigate they do, following parallel lines of enquiry and sharing their information. Along the way there's some excellent world-building about the re-building of the world of London after the Great Fire. I don't know the period well enough to say how accurate it is, but Marston has created an enjoyable picture of a culture that is both alien and familiar. I think I like this one a little better than I did the Railway Detective series, possibly because rather than in spite of coming in part way through the series -- there's far less overt info-dumping in this one than in the first Railway Detective book I read. I'd be happy to read more of these, although I'm not going to rush out looking for them; in part because a quick look at the blurbs on the author's website suggests there is very little character arc development through the series for the continuing characters and their lives outside the mystery-solving, something I found rather frustrating in the Railway Detective books.