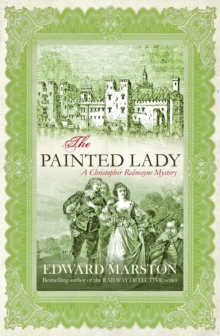 The Painted Lady
Paperback
Description
Araminta Jewell is one of the beauties of her day; a witty, resourceful, dazzling young lady who manages to resist all the blandishments that come her way.
Even her marriage to the staid and ugly Sir Martin Culthorpe has not discouraged the rakes of London; for them she has assumed an almost iconic status.
Before she wed, a special club had been set up - the Society for the Capture of Araminta's Maidenhood - with the first man to bed her standing to win a sizeable wager.
Though she is now a wife, she is still pursued with unflagging zeal.
It is during her first sitting for a portrait painted by the fashionable French artist Jean-Paul Villemot that the architect Christopher Redmayne meets the lovely Lady Culthorpe, although he has heard much about her through his dissipated brother Henry, one of her most ardent pursuers.
Before the portrait can be finished and revealed, however, Sir Martin is murdered.Joining forces with Henry and his good friend the puritan Constable Jonathan Bale, Christopher embarks on a quest to discover the killer's identity. But with each new day bringing a fresh batch of suspects, and the matter of whether Sir Martin was killed because of his shady business dealings or for the exquisite prize of his wife still unclear, Christopher knows this will be far from an easy case to crack.
Information
Format: Paperback
Pages: 352 pages
Publisher: Allison & Busby
Publication Date: 28/01/2008
ISBN: 9780749080778
Other Formats
EPUB from £5.60
Paperback from £19.99
Free Home Delivery
on all orders
Pick up orders
from local bookshops
Reviews
Showing 1 - 1 of 1 reviews.
Review by AdonisGuilfoyle
16/06/2015
I was intrigued by the blurb on the back of this novel - 'A beautiful woman. An unrequited love. An excuse to murder' - and so borrowed a copy from the library, even though I hadn't even heard of Edward Marston's Redmayne mysteries, let alone read any of them. Well, I won't be bothering with the rest after this.Set in seventeenth century London after the Restoration, <i>The Painted Lady</i>, about a beautiful and much sought after young woman who sits for a portrait to please her new husband, only for said husband to be murdered in his own garden, could have been a colourful and clever mystery. It isn't. I was expecting the lady of the title, the preposterously named Araminta Jewell, to be strong and enigmatic, perhaps hiding a secret past or a flawed personality, but she is described throughout by vapid adjectives like 'serene' and 'spiritual', and turns out to be exactly that. Modest, sensible, pure, good natured, and in love with her old and dull husband. No hidden layers there, then. Even the detective, an architect named Christopher Redmayne, is straight up and down, with 'an elegance, respectability and air of wholesomeness' that even impresses the murderer! And Redmayne's assistant, the local constable, is so much the puritan that he practically qualifies for sainthood, objecting to everything from nude paintings to marital infidelity and gratuitous displays of wealth. Boring!But not only are the characters bland and lacking in shades of grey, the mystery is also conventional and the solution decidedly obvious. I kept reading in the hope that perhaps Araminta would turn out to be less - or more - than the virtuous maiden everyone thinks she is, but no. The murderer was indeed one of the 'villains', the motive had been discussed at length throughout the story by the real killer and the red herrings, and justice prevailed in the end. Yawn. The moral of the story? Never judge a book by its blurb.