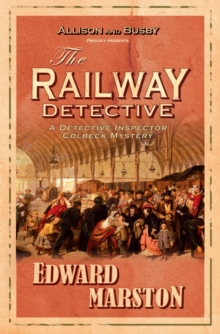 The Railway Detective
Paperback
Description
In 1851 England, the city of London anticipates the grand opening of the Great Expedition.
Excitement is mounting with each engineering triumph of the railways, but not everyone feels like celebrating.
A sudden attack hits the London to Birmingham mail train and it is looted and derailed.
Planned with military precision, Detective Inspector Robert Colbeck fights to untangle a web of murder, blackmail and destruction.
As Colbeck closes in on the criminal masterminds, events take an unexpected turn when the beautiful Madeline, daughter of the injured train driver, becomes a pawn in the criminals game.
With time running out, good and evil, new and old, battle against each other.
But will the long arm of the law have speed on its side?
Full of historical detail, unexpected twists and memorable characters, this is a mystery that will surprise you at every turn.REVIEWS "A thoroughly enjoyable Victorian crime novel, a must for aficionados.
For the general reader in search of fresh entertainment, and well worth reading."Historical Novels Review"
Information
Format: Paperback
Pages: 320 pages
Publisher: Allison & Busby
Publication Date: 01/01/2005
Category: Historical mysteries
ISBN: 9780749083526
Other Formats
Paperback from £5.95
Hardback from £14.65
EPUB from £2.39
Free Home Delivery
on all orders
Pick up orders
from local bookshops
Reviews
Showing 1 - 5 of 14 reviews.
Previous | Next
Review by bcquinnsmom
16/06/2015
The Railway Detective is the first in a series of light mystery novels featuring Inspector Robert Colbeck of Scotland Yard of mid-19th century England. In this first installment, a train carrying gold from the mint and mail is highjacked and the fireman of the train is forced to derail the engine after the driver refuses and is forcibly kicked off the train. After looking around for clues, Colbeck realizes that the robbery is probably an inside job, but just as he and his partner, Sgt. Leeming, start getting a break, there are a series of murders that occur that starts them on their search yet again. Add to this Marston's stuffy boss, who thinks Marston's techniques are unsporting and ungentlemanly and a damsel in distress, and you've got the story. It's fun, a bit of a fluff piece but still very interesting due to the period details. I'd recommend it to people who like British series mysteries, anyone interested in that time period, and people maybe looking for something new in their mystery reading.
Review by DWWilkin
16/06/2015
I first discovered Marston through his Nicholas Bracewell. My memory of that is it is one of my favorites. This newer series I find not near as well done. In effect it has stereotypes throughout.We have the sidekick who does grunt work but really is not near as bright as our hero. Our hero who knows he is bright and often will say something that is condescending to show off his intelligence. I do not think that characters need to be humble, but a policeman trying to get information should be respectful and not saying things that could lead to animosity from witnesses. Further, Colbeck, our hero, treats his boss with a little contempt. In all the man is not nice. Not a man you would want as a friend. That leaves me to look at the Victorian Era. And here this man is solving the first crime on a train. But wait Crichton did that excellently with the first real case in the Great Train Robbery. So Hold your need for a read, and get that first. Then you can compare the two. Crichton gave us a researched world and explained it. Marston wants to talk about the train greatly, but he seems to not place us in a full Victorian immersion which I think Crichton does better. I give this book a slightly better than average. I like Marston. That he makes some Conan Doyle like leaps to profile the culprit I may not agree with. I might get more in the series, and then I might not.
Review by johnthefireman
16/06/2015
This is the first of a new series of railway detective books, set in Victorian England of the mid-19th century. The pace is sedate and the plot not unduly complex, but it makes for pleasant enough reading. There are hints of Holmes and Watson in the foppish inspector and his loyal sergeant. Both the period setting and the railway ambience add interest.
Review by huffward
16/06/2015
Rather a mixture. Despite the impeccable detail, this story had the feeling of being set in a slightly later period, and I'm not entirely sure why. It might be the dialogue (which I sometimes found pedestrian), or perhaps the Holmesean resonances, especially the characters of the engine driver and his daughter who seemed to me straight out of Conan Doyle, or at least his era. I also found the plot a little thin, espcially the detective's ability to anticipate an outrage at a precise spot in the Crystal Palace, on the slenderest of evidence. Nevertheless, the story had considerable charm, especially the disarmingly innocent attraction between the detective and the engine driver's daughter. This was refreshing and sensitively done. Indeed the entire book had the feel of being written many decades ago. If the author intended this, then he triumphed. I shall certainly read more of these. The charm and unique atmosphere for me outweigh the shortcomings and perhaps, when this series gets into its stride (I intentionally read the first story first) it will strengthen further.
Review by JulesJones
16/06/2015
First book of a series about a Victorian era detective inspector at Scotland Yard. A wealth of period detail, particularly about the railways, and a wealth of purple prose. This is very much a pastiche of Victorian melodrama, and with more than a touch of Holmes-Watson stirred into the mix. Fun enough for me to keep reading the series, but I thought noticeably flawed.