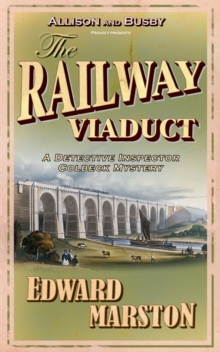 The Railway Viaduct
Paperback
Description
The Railway Detective faces his most dangerous adversary yet.
It is 1852, and Inspector Robert Colbeck and his assistant Sergeant Victor Leeming are faced with their most complex and difficult case to date.
As a train speeds over the Sankey Viaduct, a man is hurled from a carriage and plummets into the canal below.
It later transpires that he has been stabbed to death.
With no papers by which to identify the man, the detectives' investigation is hampered from the start.
Suspecting that the victim may have come from continental Europe, Colbeck and Leeming take the case to France where a new railway is being built by a British contractor.
But in a new country the detectives face new problems.
Anti-British feeling is rife and Colbeck and Leeming must put their own lives in danger to pick up the murderer's trail.
This is the third in the acclaimed "Railway Detective" series, "The Railway Viaduct" is an absorbing mystery that will keep you guessing till the very end.
Information
Format: Paperback
Publisher: Allison & Busby
Publication Date: 30/07/2007
Category: Historical mysteries
ISBN: 9780749081140
Free Home Delivery
on all orders
Pick up orders
from local bookshops
Reviews
Showing 1 - 3 of 3 reviews.
Review by pierthinker
16/06/2015
Another in the 'Railway Detective' series from Martson, this time involving a murder on a railway viaduct leading to a French railway project with jingoistic overtones from British villains. A thoughtful plot takes us through a number of set pieces about Victorian railway culture. I felt it was all a little flat for my taste; all the twists and events seemed to come as no surprise and the secondary characters were only there for colour rather than as ingredients in the mix.
Review by Roobee1
16/06/2015
Enjoyable 'tec yarn in a series about the Victorian "Railway Detective". Well done settings and a suitably whodunit storyline.
Review by edwardsgt
16/06/2015
I wasn't sure if I'd like this but it was a fascinating history lesson about the development of the railways across Europe and the pivotal role Britain paid, especially Thomas Brassey who built a third of the French railways in the mid-nineteenth century and Thomas Crampton who designed and built many of the locomotives. I was unaware of either so I enjoyed learning some industrial history and the plot was almost incidental to my enjoyment. The novel is well researched and plotted and involves Brassey as a key character as he is building one of his many French railways. Essentially it is a murder mystery and owes much to simmering English distrust of the French who they had beaten not many years previously at Waterloo. Recommended for anyone enjoys a good plot built on historical fact.