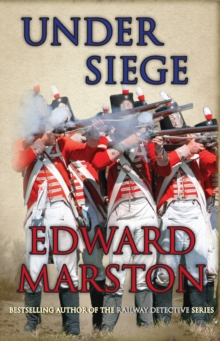 Description
SOLDIER OF FORTUNE CAPTAIN DANIEL RAWSON FACES HIS TOUGHEST BATTLE YET Despite winning a resounding victory at the battle of Oudenarde, the Duke of Marlborough finds his position as captain-general threatened by political enemies back in England, and his campaign to strike deeper into French Flanders is stalled at the siege of Lille, the 'pearl of fortresses'.
To help facilitate the new Allied strategy, Captain Daniel Rawson is given the treacherous task of entering Lille undercover to steal vital plans.
Meanwhile, in England, Daniel's beloved Amalia is herself under siege - a dangerous admirer is determined to have her, even if he has to have Daniel murdered first. As the weather worsens and Lille's famed defences appear to be holding, Daniel has to fight against one of his own allies, dwindling supplies, weakening morale, French patrols and a hired assassin.
He must battle bravely on or risk losing everything ...
Information
Format: Paperback
Publisher: Allison & Busby
Publication Date: 28/11/2011
Category: Historical adventure
ISBN: 9780749009793
Free Home Delivery
on all orders
Pick up orders
from local bookshops
Reviews
Showing 1 - 1 of 1 reviews.
Review by PilgrimJess
27/08/2015
This is the fourth in the Captain Daniel Rawson series and for me probably the most disappointing. After three victories over the French army in Belgium during the Spanish War of Succession the allied forces of British and Dutch armies set out to besiege Lille, a supposedly unconquerable city. Daniel Rawson is given the task of sneaking into the city,out-witting its inhabitants and stealing the blueprints for its defences aided by a Welsh camp follower called Rachel Rees whom he had saved from molestation earliar. He must also face men from his own side who wish to kill him alsoA siege by nature is a pretty static affair and for me much of the action was in a similar vein. It was largely rehashed from preceding books and too many of the characters were black and white, either good or evil. In particular Daniel was just too good to ring true. Twice he was offered sex on a plate and on both occasions he declined because he was in love with someone else, personally I would have taken to him more if he been bit more of a bounder and had bedded every woman he could get his hands on. Then at the end he is given special leave to leave the battlefield to head back to England to pursue his love. I mean "please"! What interested me most about this book was the 'courtship' between Rachel Rees and Daniel's friend Sergeant Henry Welbeck but this in the end was left frustratingly unresolved which was a real shame as it added colour to an otherwise fairly drab tale.The main redeeming factor with the previous books in this series was the details around the Spanish War of Succession, a period in history that I will freely admit that I know little about. However, this too was largely missing from this book and hence the reason why it was IMHO inferior to those that went before. Marston may be a good writer of detective novels (friends speak highly of his Railway Detective series) but personally I don't feel that war is really his forte. Sorry.