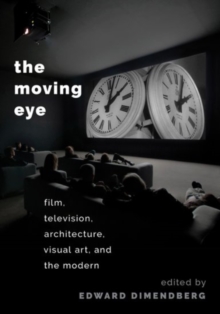 The Moving Eye : Film, Television, Architecture, Visual Art and the Modern
Paperback / softback
Description
Once the province of film and media scholars, today the moving image is of broad concern to historians of art and architecture and designers of everything from websites to cities.
As museums and galleries devote increasing space to video installations which no longer presuppose a fixed viewer, urban space becomes envisioned and planned through "fly throughs," and technologies such as GPS add data to the experience of travel, moving images have captured the attentionof geographers and scholars across the humanities and social sciences.
Their practice of "mobility studies" is remaking how we understand a contemporary world in relentless motion.
Media theorist and historian Anne Friedberg (1952-2009) was among the first practitioners of visual studies to theorizethe experience of vision in motion.
Her books have become key points of reference in the discussion of the windows that frame images and the viewers in motion who perceive them.
Although widely influential beyond her own discipline, Friedberg's work has never been the subject of an extended study.
The Moving Eye: Film, Television, Architecture, Visual Art and the Modern gathers together essays by renowned thinkers in media studies, art history, architecture, and museum studies toconsider the rich implications of her work for understanding film and video, new media, visual art, architecture, exhibition design, urban space, and virtual reality.
Ranging from early cinema, to works by Le Corbusier, Sergei Eisenstein, Gordon Matta-Clark, and Pierre Huyghe, to theories of the image in motioninformed by psychoanalysis, theories of the public sphere, and animal studies, each of the nine essays in the book advances the lines of inquiry commenced by Friedberg.
Information
Format: Paperback / softback
Pages: 184 pages
Publisher: Oxford University Press Inc
Publication Date: 20/06/2019
Category: Film theory & criticism
ISBN: 9780190218447