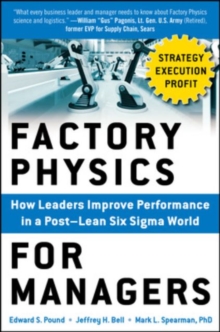 Factory Physics for Managers: How Leaders Improve Performance in a Post-Lean Six Sigma World
Hardback
Description
From the award-winning developers of Factory Physics-a powerful leadership guide for breakthrough performance A comprehensive guide that cuts through the hodgepodge of copycat initiatives, overblown buzzwords, confusing mathematics, and misguided software, Factory Physics for Managers is a breath of fresh air for operations managers and executives. Written by the leaders and experts behind the bestselling Factory Physics, it's a brilliant crash course in the practical science of operations designed to help you: Achieve best possible profit, cash flow, and customer serviceAttain highest return with existing Lean, Six Sigma, and ERP initiativesManage your capacity, inventory, response time, and variability with high predictabilitySimplify management of complexity using existing IT systemsUse the fundamentals of science to ensure your operation's successSee your company and procedures more clearlyImprove intuition, decision making, and strategy executionA strategy of imitation is not much of a strategy.
Most every company uses the common continuous improvement initiatives.
This highly accessible guide addresses but goes beyond other business approaches such as Lean, Six Sigma, and Theory of Constraints by offering a customizable plan that you can apply to any manufacturing-based industry or supply chain. You'll discover invaluable tools for developing operations strategy and driving execution by using practical science to assess your procedures, target problems, and find solutions.
You'll learn essential life lessons from the best-and worst-practices of corporate leaders like Toyota and Boeing.
You'll find ingenious new ways to improve your leadership by predictively managing the tradeoffs that every operation faces-whether it's more or less inventory or capacity, higher or lower customer service, or more or fewer products. Using this approach, you can tackle these natural conflicts in business through a practical, comprehensive science of operations. Factory Physics for Managers makes it easier to choose and execute the best strategy for better productivity-and even bigger profits. Praise for Factory Physics for Managers"Factory Physics for Managers is a proven path to flawless execution and results.
Leading vs. following in our industry is predicated on the relentless pursuit of putting order to chaos.
Factory Physics science and CSUITE software have given our organization the ability to plan, predict, model, and execute based on explosive growth and rapid-fire, dynamic changes to our business model.
In our case, history is not a good predictor of the future, so we need to deploy our resources wisely, and the Factory Physics approach has helped us do just that."-Larry Doerr, COO, Stratasys"Shows how the science behind Lean initiatives can greatly improve results interms of productivity and resources."-Bill Fierle, Vice President and General Manager, TopWorx, Emerson"Brings powerful, accessible science to operations management.
The FactoryPhysics playbook enables me to lead the harnessing of our data more effectively for modeling, planning, control, and feedback.
Armed with the concepts, common language, and tools in this book, I can partner with operations' leadership to impact the bottom line."-Jeffrey Korman, CIO, Hu-Friedy Mfg LLC, Chicago