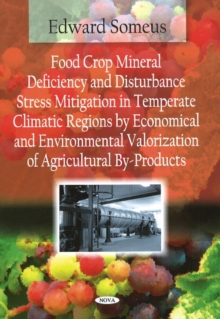 Food Crop Mineral Deficiency & Disturbance Stress Mitigation in Temperate Climatic Regions by Economical & Environmental Valorization of Agricultural By-Products
Paperback / softback
Description
The innovative 3R "Recycle-Reuse-Reduce" AGROCARBON technology provides recycling of agricultural organic and mineral by-products provides carbon products for soil amendment and restoration of soil natural balance.
This book explains how the input feed streams are plant and animal origin carboniferous by-products, such as refuse grain, sawdust, food grade animal bone meal, food processing and/or other agro by-products.
The innovative technology is providing surface modified charcoals and minerals for plant availability and post processing the chars by integrated biotechnological means.
The process is upgrading by-products to high added-value biological control, plant growth promotion and natural fertilisation combined products for environmentally friendly vegetable cultivation, with carbon sequestration potential.
The 3R is a horizontally arranged and indirectly heated low temperature zero emission carbonisation system (operating under vacuum, up to 850 DegreesC+/-50 DegreesC material core temperature) and directly integrated novel agro biotechnological processing units of agrocarbon specific solid state fermentation and formulations.
Performance: 1. Food crop mineral deficiency and disturbance stress mitigation in temperate climatic regions by restoration of soil natural balance. 2. Input feed streams: low value organic and/or inorganic by-products; such as refuse grain, sawdust and/or high Phosphorous content animal bone meal, and/or other by products; which can be valorisation transformed by added-value integrated thermal and biotechnological means. 3. The 3R biotechnology integrated industrialised biochar production technology is a modern zero emission solution, in which process all and any output products are recycled and reused, aiming prevention-protection-preservation approaches. 4. The output products are different types of soil biotechnology specific solid carrier composits and adapted microbiological fungus and/or bacteria strain consortiums.
Depending on the soil and climate application scenario conditions, different types of soil and climate relevant 3R NPK products can be made. 5. The application objective of the products are the natural balance and functionality restorations of degraded temperate agriculture soils with controlled microbiological activity and precision farming nutrient supply.
Further objectives are the promotion of humus building and mineral mobilisation towards plant availability, for sustainable, improved, economical and ecological food crop production in the fields of organic and low input low green house gas farmings, while carbon sequestration is also targeted. 6. The application targets combined effects, such as plant growth promotion, biological control against soil borne plant pathogens and natural NPK fertilisation, especially sequenced mobilised Phosphorus supply and improved nutrient use efficiency. 7. The application sectors are the organic farming and/or low input farming for environmentally friendly vegetable cultivation and other food crop productions. 8. STATUS: "product like" field demonstration plant has been developed, successfully tested, scale up optimisation and comprehensive industrialised engineering design made for 30,000 m3/year input feed stream as of modern US/EU industrial norms and standards.
Patented original solution. Available for licensing and technology transfer.
Information
Format: Paperback / softback
Pages: 132 pages, tables
Publisher: Nova Science Publishers Inc
Publication Date: 20/08/2009
Category: Agriculture & related industries
ISBN: 9781606922439
Free Home Delivery
on all orders
Pick up orders
from local bookshops