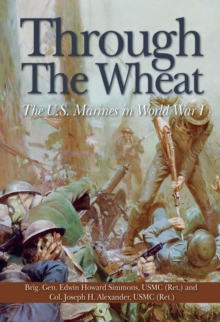 Through the Wheat : The U.S. Marines in World War I
Paperback / softback
Description
One of the great defining moments in the history of the U.S.
Marine Corps is their participation in World War I. It is a story of exceptional heroism and significant operational achievements as well some lessons learned the hard way.
Two marines well known for their achievements in uniform as well as with the pen have recorded this rich history in a way that only"insiders" can.
General Simmons and Colonel Alexander have recounted the events in great detail, capturing the spirit that earned the Marines in World War I the sobriquet "Devil dogs," while providing an important combat study worthy of attention by veterans and neophytes alike. Names like Belleau Wood, Soissons, and St. Mihiel resonate today, nearly a century later, and Simmons and Alexander leave no doubt as to why.
Hand-to-hand combat as seen through the lenses of a gas mask is accompanied by cogent analysis and thought-provoking assessments of this unique war and its impact on the U.S.
Marine Corps. About the AuthorsBrig. Gen. Edwin H. Simmons served in the Marine Corps for 36 years from 1942 and is a decorated veteran of World War II, Korea, and Vietnam.
He also served the Corps for seventeen years as a civilian, including many years as Director of Marine Corps History and Museums. Col. Joseph H. Alexander served in the Marine Corps for 28 years and fought in Vietnam.
He has helped produce 25 military documentaries for cable television and was chief historian on the exhibit design team for the National Museum of the Marine Corps.
Information
Format: Paperback / softback
Pages: 384 pages, photo section
Publisher: Naval Institute Press
Publication Date: 15/09/2011
Category: 20th century history: c 1900 to c 2000
ISBN: 9781591148319
Free Home Delivery
on all orders
Pick up orders
from local bookshops