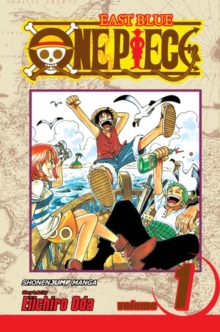 One Piece, Vol. 1
Paperback
Part of the One Piece series
Description
A new shonen sensation in Japan, this series features Monkey D.
Luffy, whose main ambition is to become a pirate. Eating the Gum-Gum Fruit gives him strange powers but also invokes the fruit's curse: anybody who consumes it can never learn to swim.
Nevertheless, Monkey and his crewmate Roronoa Zoro, master of the three-sword fighting style, sail the Seven Seas of swashbuckling adventure in search of the elusive treasure "One Piece."
Information
Format: Paperback
Pages: 216 pages
Publisher: Viz Media, Subs. of Shogakukan Inc
Publication Date: 25/06/2003
Category: Manga
ISBN: 9781569319017
Free Home Delivery
on all orders
Pick up orders
from local bookshops
Reviews
Showing 1 - 5 of 5 reviews.
Review by jckeen
16/06/2015
Romance Dawn is the first in Eiichiro Oda's Japanese Manga series One Piece. Why it's called "Romance Dawn" is anyone's guess. This Volume has no references to a sunrise, and there is absolutely no love affair. Despite that, One Piece is an entertaining story with a likable protagonist named Luffy. Luffy wants to be the King of the Pirates. Always told by other pirates that he is too small, Luffy eventually decides to set out on his own. By the time he sets sail, he is bigger and stronger. He also has the happy ability to bend like rubber after eating magic devil gum-gum fruit. With no plan in mind, Luffy drifts at sea until he lands on an island inhabited by nefarious and mysterious characters. Having no plan seems to be his forte (even his name, Luffy, is a reference to sails flapping in the wind).Like other manga-style graphic novels, the illustrations are in black and white, full of action, heavy on detail, and ripe with comical facial expressions. The protagonist is also a typical manga character. He has plenty of faults, but still knows how to fight well. Unlike Naruto, I feel that Luffy is a much more enjoyable protagonist to follow over a series. Boys will certainly enjoy his quest to find the treasure called "One Piece" and become the Pirate King.
Review by othersam
16/06/2015
Do you like pirates? Do you think the 'Caribbean flicks were a bit… disappointing? Then look this way: One Piece by writer/artist Eiichiro Oda will shiver your timbers…Monkey D. Luffy is determined to be the greatest pirate the world has ever seen. Another person might see having no ship, no crew, and no discernible talent for seamanship as fairly serious obstacles to that ambition, but for indomitable optimist Luffy they're just details: he's going to sail the famously fatal Grand Line and capture the fabled treasure the "One Piece" – and nothing and no one will stop him.Apart from a rowboat, a cool straw hat and his own near-suicidal enthusiasm Luffy's got one more thing going for him: after eating the fruit of the Gum-Gum tree, his body has some unusual powers…It would take a flinty-hearted reader indeed to fail to be charmed by One Piece: it's very silly, sure, but it's also warm, funny, imaginative and stuffed to the gunwales with wild action and brilliant characters. Take Roanoa Zolo and his astonishing three sword technique - or Nami, the wonderfully amoral thief: she's as likely to rob Luffy as help him. Best of all, take Luffy himself. He got my full support in Volume 1 as soon as I saw him /punch a sea-monster/ – but now, five vols in as I am, I'm starting to think he's one of the most charismatic protagonists I've ever come across. As if all that wasn't enough, the volumes I've read included awesome bonus features like sketches, interviews, colouring-in pages and models to cut out or copy.Is One Piece this much fun over the whole of its sixty-two (so far) volumes? I aim to find out. Meantime I'd recommend One Piece to anyone. A big thank you to Omid at The Big Green Bookshop for doing so for me. :D
Review by jinmoon
16/06/2015
During the golden age of the pirates, one little boy was determined to become a pirate to find One Piece, a legendary treasure left behind by the Pirate King Gol D. Roger. The little boy, Monkey D. Luffy, always said that he will become a pirate and he did. As a boy, he ate the devil's fruit, Gum-Gum fruit, giving him the power to stretch like rubber but also cursing him with the worst disability for a pirate: weakness to water. However, Luffy overcomes this weakness and ventures out to the seas. In the first volume, the reader will get to know Luffy and his friend, Zoro, a master swordsman. One Piece captures the heart of many with a very unique illustration style as well as with the romantic and nostalgic elements of being a pirate. The illustration is very active and it also exaggerates any human features, making them even more energetic. It is mostly black and white, with the cover art being the only colored art. The creator takes advantage of its black and whites, using lines and different tones to emphasize emotions. One Piece can take you on an exciting pirate adventure, introducing the readers to new worlds. As the reader continues throughout the volumes, they will come to love all the characters and want to become a pirate themselves.
Review by scote23
16/06/2015
Couldn't really get into it. I guess it's just not my type of book? I was surprised, because it's about pirates and came highly recommended. I might try volume 2 to see if it gets better...eventually.
Review by Anoplophora
16/06/2015
Abandoned at chapter 655. I can't force myself to read this anymore just because it's popular, it doesn't interest me at all. I've given it more than its far chance.<br/>