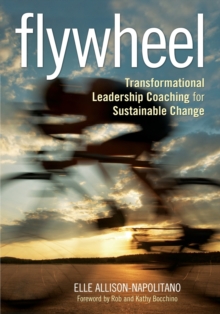 Flywheel : Transformational Leadership Coaching for Sustainable Change
Paperback / softback
Description
Even highly effective leaders can succumb to the change-killing forces of the status quo.
Flywheel, the flagship leadership coaching program from Renewal Coaching picks up where training, teaching and modeling leaves off.
This is a transformational leadership coaching approach that places the locus of control firmly in the hands of the person being coached, not the person doing the coaching.
At the same time, leadership coaches push others to clarify, reflect, problem solve, reframe, consider new perspectives, learn, and achieve new insights that lead to bold action. This book is all about the "how" of leadership coaching.
Flywheel represents a compilation of the material Elle Allison uses in her Leadership Renewal Coaching Workshops and Seminars. It was a high school Physics teacher in one of Elle's workshops who observed that coaching was a "flywheel" to the hard work of leaders.
This teacher explained to Elle that a flywheel is a mechanical invention that stores energy, which can be called on and used to keep things moving when the energy source is unavailable.
For the Physics teacher in Elle's coaching class, the coaching conversation created energy for him-energy that he took back to his work, energy that sustained him when the going gets rough.
Free Home Delivery
on all orders
Pick up orders
from local bookshops
Also by Eileen T. Allison-Napolitano