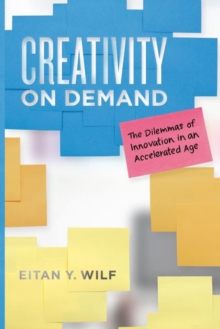 Creativity on Demand : The Dilemmas of Innovation in an Accelerated Age
Hardback
Description
Business consultants everywhere preach the benefits of innovation--and promise to help businesses reap them.
A trendy industry, this type of consulting is centered around courses, workshops, books, and conferences, all claiming to hold the secrets of success.
But what kind of promises does the notion of innovation entail?
What is it about the ideology and practice of business innovation that has made these consulting firms so successful at selling their services to everyone from small start-ups to Fortune 500 companies?
Most importantly, what does business innovation actually mean for work and our economy in general in 2019? In Creativity on Demand, cultural anthropologist Eitan Wilf seeks to answer these questions by returning to the fundamental and pervasive expectation of continual business innovation.
Wilf focuses a keen eye on how our obsession with innovation stems from the long-standing value of acceleration in capitalist society.
Based on ethnographic work with innovation consultants in the United States, he reveals, among other surprises, how routine the culture of innovation is in reality.
Procedures and strategies are repeated in a formulaic way, and imagination is harnessed as a new professional ethos, not always to generate genuinely new thinking, but also to produce predictable signs of continual change.
A masterful look at the contradictions of our capitalist age, Creativity on Demand is a model for the anthropological study of our cultures of work.
Information
Format: Hardback
Pages: 240 pages, 6 halftones
Publisher: The University of Chicago Press
Publication Date: 04/02/2019
Category: Cultural studies
ISBN: 9780226606835
Other Formats
Paperback / softback from £18.05